Owl's Nest Campground is Coaldale's answer to the great outdoors
Posted on August 11, 2021 by Sunny South News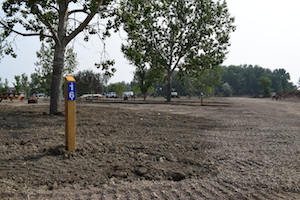 Sunny South Photo Submitted
By Stan Ashbee
Sunny South News
Local businesses are anticipating a boost in local tourism following the opening of Owl's Nest Campground this month in Coaldale, according to a recent media release.
"Since purchasing the campground in 2020, we've been working tirelessly to prepare the site with the help of the town and several local contractors," stated Trevor Sampson, general manager of Owl's Nest Campground. "We're currently working on the finishing touches to make sure we can deliver the best experience for our guests."
Owl's Nest Campground is offering fully-serviced campsites complete with washrooms and showers, picnic shelters, a group campsite and a concession with convenience goods. The campground will also feature connections to Coaldale's highly-anticipated new mountain bike park.
"We've worked with the town on a number of aspects throughout the project, including shared amenities like the mountain bike park and the sanitary dump station," said Sampson. "Any challenges we've encountered during planning and construction of the campground have been easy to overcome with the help of the town – they've been readily available to answer any questions or concerns we've had over the year."
"We're thrilled to have Owl's Nest Campground as part of our growing community," said Cam Mills, manager of Economic Development and Strategic Initiatives at the Town of Coaldale. "The campground will give our community a tourism boost by driving more traffic to our local businesses and add to Coaldale's already tremendous array of recreational amenities."
Owl's Nest Campground is currently accepting reservations. To book a site, visit owlsnestcampground.ca or call 403-795-8896.
"I've lived in Coaldale for many years and I'm excited to be able to give back to a community that's already given me so much," said Sampson. "We look forward to continuing to provide an additional amenity that both residents and tourists can enjoy for years to come."