Coyote Flats Tractor Pull and Pig Roast is back
Posted on September 3, 2021 by Sunny South News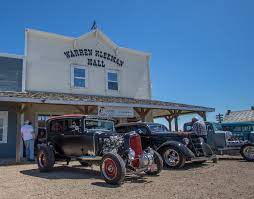 By Laura Balanko-Dickson 
Sunny South News
On Sept. 25 at 1 p.m., Coyote Flats Pioneer Village, at the Prairie Tractor and Engine Museum near Picture Butte, is having a tractor pull, silent auction and pig roast.
Although a pig roast wasn't held last year due to COVID-19, the local tourist attraction's doors are re-opening to the public for the previous annual event. The locale's historical buildings will also be open. Shelbie Desautels is the general manager of Coyote Flats and Keith Strong is president.
"The tractors, of course, they come from all over the province. We had (a tractor pull) in July and there was 52 tractors. We're expecting approximately the same number," says Strong. "There's different classes, different weights, different horsepower and they get put in the class with how much weight they can pull."
Strong added, more or less, bragging rights is what it is — and fun. "People come and have fun showing off their tractors."
According to Strong, there are eight different classes of tractors in the event. "It goes by weight," says Strong. "It starts with lightweight and goes 1000 pounds to 1,900 and it keeps going up until you get the heavyweights — which is 8,000 pounds and over. Those are some big tractors."
"Most of these are older tractors. There's no new tractors. These tractors were up to, probably 100 horsepower — whereas you see the new ones today — two, three, four-hundred horsepower. Most of them are restored tractors. When I say new, I mean like from the 1960s," Strong notes.
While Strong won't have a complete list of items for the silent auction until the day of the event, "a lot of people donate (auction items) the day of."
But, Strong does have an idea about what two of the auction items available will be. 
"There's some Indigenous blankets made by Indigenous people — the Apache, in southern Arizona. There's a horse collar mirror made by a local farmer here," says Strong. "Just come and have a good time — that's all I can say."
According to Desautels, "we will have our tractor pull all afternoon and a silent auction and a pig roast for supper around 6 or so."
The pig for the roast will be provided by Van Essen's farm.
"We'll have all our buildings open," says Desautels. "It's a lot of fun. People really enjoy themselves when they come out. It's a really good time. As long as the weather is nice, we'll probably have the eating outside rather than inside." 
"If people want to, they can wear masks," adds Strong. "It's usually a good time. Everybody has a good time at the pig roast. The chefs wear costumes, there's music and a meal, of course. It's usually one of our best parties of the year."