CDES Q3 report shows high call volume as province moves to centralized dispatch
Posted on October 26, 2021 by Sunny South News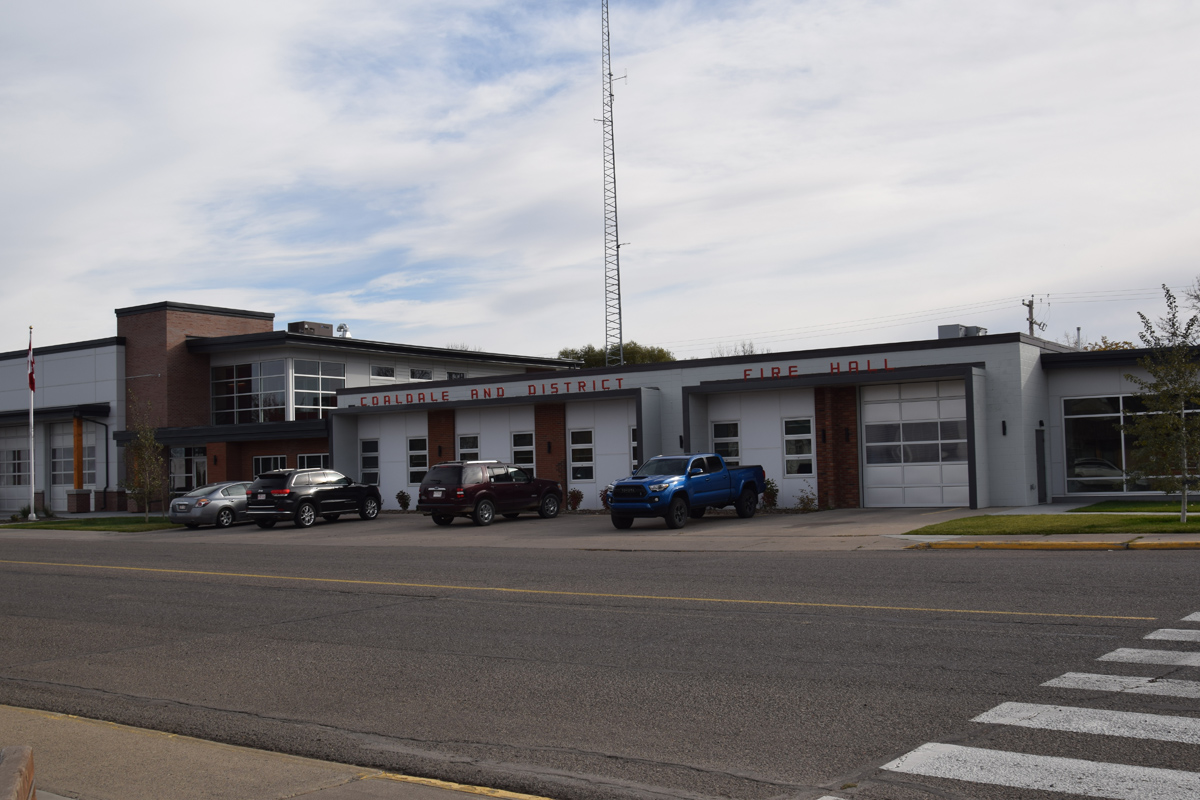 Coaldale's Fire Hall
By Erika Mathieu
Sunny South News
Coaldale and District Emergency Services (CDES) recently released their third quarter report which articles statistics on call volume and other key metrics. The findings revealed a high volume of calls to date for 2021 compared to previous years.
Kevin McKeown, Fire Chief for the Town of Coaldale spoke to the increased volume of calls in 2021.
"Our call volume has been increasing year over year at a rate of approximately 6 per cent  since 2016. In 2020, we responded to 466 incidents which was a record for our department. The highest call volume previously was the year before in 2019 when we responded to 420 incidents. We are on track to hit 500 calls this year if things keep up, which would be an increase of 19 per cent over the last two years."
In addition to this, the report found 23 code red incidents phoned in. McKeown said these code reds occur, "when the fire department is requested to attend an EMS incident in the Town of Coaldale, and the ambulance is coming from another district, such as the City of Lethbridge or Taber, we classify that as a code red because there were no local ambulances available to respond."
"In August, we had a call which was a code red incident, so no ambulances were available in Coaldale, and it took 13 minutes for us to receive the call. This is an unacceptable delay."
McKeown said, the addition of extraneous stages in the dispatch process has limited the efficacy of CDES. He adds that the additional steps, "increase the possibility of human error plus delays getting critical information to fire units." McKeown also cited an incident within the year where an ambulance in Brooks was dispatched to a medical call in Coaldale.
He said this increase in code red events, divestment from local emergency services, and general inefficiencies within the dispatch process because of centralization, has prompted instances of EMS burnout, and said there has been an observable degradation of services.
"We've seen numerous changes to core hours of work for our paramedics, so they are responding from home more often during the day which delays chute times. We've seen paramedic burnout and ambulance's being 'timed out' so they are out of service and not available to respond. And we've seen a system that has not kept up to rising demand, while simultaneously seeing cuts in other sectors of the Health Care system such as urgent care and residents losing family physicians which all leads to additional stress on the emergency medical services."
AHS's website claims the goal of the borderless system is to provide improved EMS response and patient care by sending ambulances in the immediate area but McKeown points to the additional time spent by adding an intermediary.
"As Calgary EMS dispatch gathers additional information from a 9-1-1 caller requesting an ambulance, that information takes time to be viewed and relayed to fire crews by Lethbridge Public Safety Communications Centre (PSCC)."
The AHS website also claims the current centralized process, "ensure(s) EMS resources are strategically placed to obtain the best response times, but the decision to centralize dispatch across Alberta is contentious among newly affected municipalities. In January, the mayors of Wood Buffalo, Lethbridge, Calgary, and Red Deer expressed concerns over the province's decision. And in February, the Regional Municipality of Wood Buffalo chose to defy the new AHS system by refusing to transfer calls to AHS EMS dispatch, which ultimately resulted in Alberta Health and AHS applying for an injunction against the municipality of Wood Buffalo. The sentiment of frustration of shifting blame onto municipalities was echoed by McKeown.
"AHS EMS needs to recognize that there are issues with their current centralized system and take some accountability instead of blaming everyone else for their shortfalls."
Earlier this month, the same four mayors Calgary, Lethbridge, Red Deer, and Wood Buffalo jointly filed an official complaint with the Alberta ombudsman.
Alberta Health Services' website claims the centralized system, "allows EMS Dispatch to send the closest, most appropriate resource to respond to each emergency," and while this may be the intended effect, McKeown said the divestment from local emergency services has not been the idyllic and efficient system touted by AHS.
"When the Town of Coaldale divested from running emergency medical services locally, we were told from AHS EMS that there would be no degradation of service. What we've witnessed over the last 11 years has been a slow-moving train wreck."
The agreement to centralize dispatch came into effect earlier this year and now allows the CDES the ability to complete fire inspections and fire investigations. Perhaps one of the only advantages to come from the new agreement.
"In the past, Lethbridge County contracted fire inspections to the City of Lethbridge and contracted fire investigations to a private company. CDES is now responsible for completing fire inspections and fire investigations in our primary response zone of Lethbridge County, and we have the ability to complete them in other zones if requested. This benefits our department as we are able to be the ones out there gathering the information for businesses in our area and getting to know the people and buildings better in our response area," added McKeown.
"There are several issues that are currently affecting us from AHS EMS's recent transition to centralized dispatch. The transition has decreased the interoperability between fire and EMS even further. We don't have radio access to the AHS dispatch center; therefore, all communications have to be relayed from Lethbridge to Calgary which is inefficient and delays fire departments receiving time critical information."
In this way, the increase of calls, and the province's decision to centralize all dispatch has already posed significant challenges in ensuring expedient dispatch of emergency services to those in need.
McKeown referred to how the centralization of services has added crucial minutes to the dispatch process. In moments where seconds matter, there is a real potential that some Albertans may experience a reduction of services to the detriment of their health as the added complexity of rectifying errors or clarifying basic information with respect to the location or nature of the emergency.
McKeown said there have been, "incidents where the address given to us has been incorrect and it takes additional time for Lethbridge PSCC to contact Calgary dispatch and share information to figure out the correct location of the call." The impact of these delays has been significant and quantifiable. He continued, "on average it takes 4.1 minutes for us to be toned out for a medical response; that comprises the time that AHS Dispatch in Calgary receives the 9-1-1 call, the request for fire is received by Lethbridge PSCC and ultimately, we are requested to respond."
McKeown credits the dedicated teams of EMS and firefighters for their contributions and dedication despite the ongoing challenges and unprecedented demand for services. He also expressed gratitude to volunteer firefighters on their contributions to Lethbridge County for being, "some of the most dedicated and committed people I know. Without all the time they sacrifice away from their jobs and families to serve the residents of Coaldale and Lethbridge County we would not be able to provide the professional emergency services that we operate today."
Earlier this year, AHS predicted an annual savings of $6 million, and promised no degradation to the efficacy of dispatch services, however McKeown said, "The Town of Coaldale deserves better from AHS EMS" and is encouraging residents "to speak up and advocate and lobby the Provincial Government for better access to local medical services."
Correction: 10/28/2021: It was previously reported the new dispatch process has allowed CDES to conduct inspections and investigations in Lethbridge County. CDES's ability to conduct fire inspections is a result of the new Fire and Rescue Services agreement between the Town of Coaldale and Lethbridge County, and not a result of the centralization of EMS dispatch or AHS, as they are entirely separate entities.