Green Acres Holstein Club donates $100k in heifers to support B.C. farmers impacted by flooding
Posted on January 18, 2022 by Sunny South News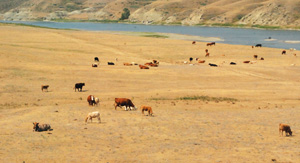 Sunny South file photo
By Erika Mathieu
Sunny South News
Some B.C. farmers impacted by the massively destructive flooding last November have received a show of support from the southern Alberta dairy farming community.
President of the Green Acres Holstein Club, Tim Hummel said, "donors from about 30 farms in the region came together to donate 41 heifers," to farmers affected by the devastating flooding in the Abbotsford area. The Green Acres Holstein Club encompasses the area south of Calgary. Hummel also sits on the board as vice president for the Alberta Holstein Association.
The Heifers, valued at approximately $2,000 to $2,500 per head, have an estimated cumulative value of nearly $100,000, and were gathered at Van del Pol Dairy Farm Ltd., just 10km east of Coaldale for collection before being shipped out to B.C. the morning of Jan. 14.
Aside from the cattle donations, monetary donations were made by industry partners to cover the cost of trucking to transport of the cattle, which alone amounted to over $4,500. Hummel also said that brand inspection added another line on the total invoice but was generously covered by additional cash donations from industry representatives.
"Because the animals are traveling out of province, they need to be inspected," said Hummel, meaning a cattle brand inspector had to come and take inventory of the interprovincial shipment and provide details for the transport manifest, so that all animals are accounted for during and after their journey.
The heifers, all of the Holstein breed, have easily recognizable black and white, or red/brown and white markings and look like a stereotypical dairy cow.  Their distinct markings and incomparable ability to produce milk, make their genetics desirable globally, as they are able to produce more milk than any other breed of cattle. Although it not necessarily the average yield, top producing Holsteins that are milked twice a day can produce up to 67,914 pounds of milk in a year.
The destruction of the floods saw many farmer's livelihoods washed away with the current as massive amounts of water dismantled critical highway infrastructure, farming ventures, and anything else in its path, including cattle.
"There is a committee in B.C. of people who are farmers who are not affected by the flood, and they are distributing the heifers as the need exists," explained Hummel.