Adrenaline rush at the circus
Posted on June 1, 2022 by Sunny South News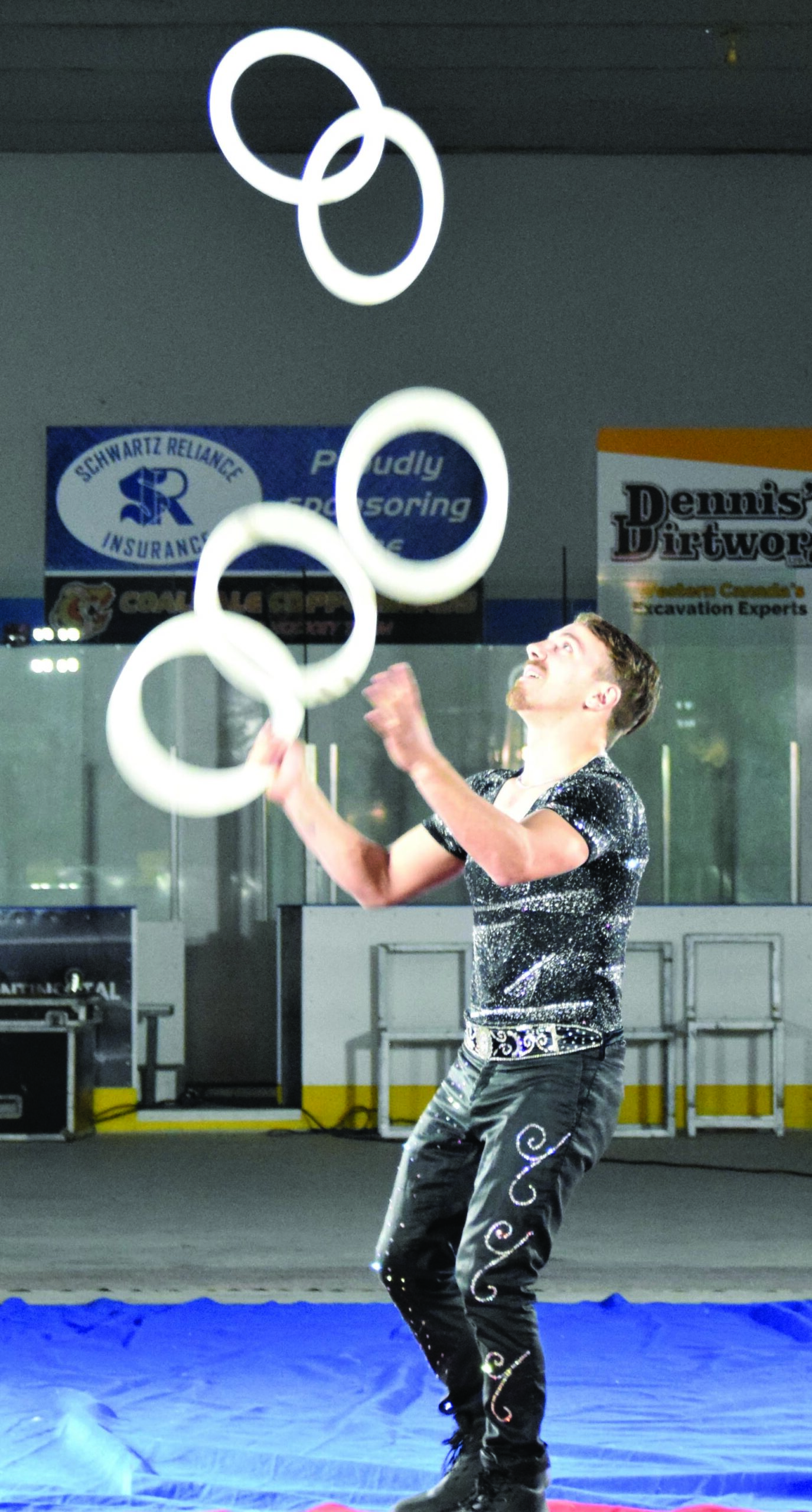 Benjamin's Circus provided fun and family entertainment on Saturday Photo By Cal Braid
By Cal Braid
Sunny South News
Some folks grow up and run away with the circus. The rest of us play it safe and stay home. Those crazy folks who do have a chance to strut their stuff on May 28 at the Coaldale Sportsplex—and strut they did. The Great Benjamin's Circus was as advertised, "90 minutes of energy, beauty, and excitement."
The show featured a clown, an acrobat, daredevils, and more. It was an almost unbelievable display of feats that most people wouldn't dare try, let alone practice, and then perfect. It was an adrenaline rush for the audience, and presumably, the performers, too.
The show had concessions on the floor offering lemonade, popcorn, and cotton candy. A face-painting station was set up and available during the intermission. The stage set up on the floor was rather simplistic, with the only unusual item being a ball-shaped cage.
The show started with dancers and led into a solo juggling act, which the juggler finished by setting a spinning ball on the tip of an umbrella and then balancing the umbrella on his nose and continuing to juggle. A genuinely funny little clown made appearances both before and after the break. A hula hoop artist twirled neon hoops and a giant slinky hoop, two cowboys performed a complex lasso act, and they were followed by a drummer and percussionist who used ropes with wooden balls attached to them to create her rhythms on a floorboard. She finished her act with the ropes in flames.
A man in a large hoop performed an incredible spinning routine, and an acrobat posed atop a platform that he built higher and higher with a dangerous chair-stacking trick. The final act was in the ball cage, known on the circuit as the 'globe of death.' A dirt bike rider rolled out from backstage and into a trap door in the globe, proceeding to race around inside it at high speeds. To make matters more frightening, another dirt bike rider appeared and pulled up and into the globe, and the two riders looped up, down, and around each other at full throttle. It was a little nauseating to watch from up close, and mind-boggling how it didn't end in a crash. The full-house crowd approved with a hearty ovation and there were smiles all around as the audience streamed back out into the afternoon sun.
The Great Benjamin's Circus and its caravans "travel to the four corners of North America: from Florida to California and Alaska to Newfoundland," and it's a fully entertaining spectacle.