Get out and play! YWCA offering summer program in Coalhurst
Posted on July 6, 2022 by Sunny South News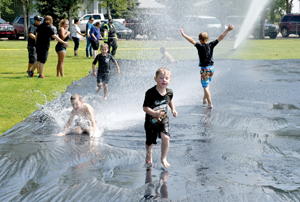 Southern Alberta Newspapers File Photo
By Cal Braid
Sunny South News
The Lethbridge YWCA is running a Neighbourhood Play Program in Coalhurst and it's a great opportunity for kids to get out of the house, socialize, and make the most of their summer days. The program runs July 4 – Aug. 18, Monday to Thursday of each week. Two daily sessions are scheduled from 9 a.m. – Noon and 1 – 3 p.m. Children ages six through 12 are invited to drop in at Miner's Memorial Park at the David A. Veres social area. Pre-registration is not required, and the program is free.
Scott Bowlen is the YWCA contact person for the program. He said that initially the activities will be organized by the program leaders but are flexible enough to allow input from the kids who attend. "We'll do dodgeball, freeze tag, or play with water guns until we establish what the kids at the park really want to do, because we find that we have a lot of returning kids each day. Then after that, we get a gauge from the kids and ask (them) what they like to do."
"We have a ton of equipment here at the YWCA that we can utilize, so activities are all over the place. Literally anything that you can think of, we have the equipment for," Bowlen said. "We ask that the parents provide sunscreen, bug spray, a hat, and a snack. We do have access to water on site through water fountains inside the school."
In terms of suitable clothing for playing with water, the organizers will often let the kids know a couple of days in advance about those activities but, "Most of the time, kids don't really care what they're wearing when those days show up."
This is Bowlen's second year heading up the program. "Things were quite a bit different last year. We weren't able to get into the schools to use the bathrooms and water fountains. We had a port-a-potty and provided a bunch of water. Also, on days that it was too smoky, too rainy, or above 35 degrees, we had to cancel, which is sad." Normally, under poor conditions, the groups can go inside the schools and there's a designated area to do crafts or just hang out.
The YWCA is running the program at five different schools in Lethbridge as well as Miner's Memorial Park in Coalhurst.
"There is that hour gap in the day that we aren't on site and the leaders can't be responsible for the kids, just so that parents know that. They can sign our 'walking home alone' waiver or they can come pick up their kids for that one hour. It's all registration on-site, so they just have to sign our paperwork the first day of drop off and that's it."
For more information, contact sbowlen@ywcalethbridge.com or call 403-329-0088. Otherwise, just show up and play!