Timing a flyover
Posted on July 14, 2022 by Sunny South News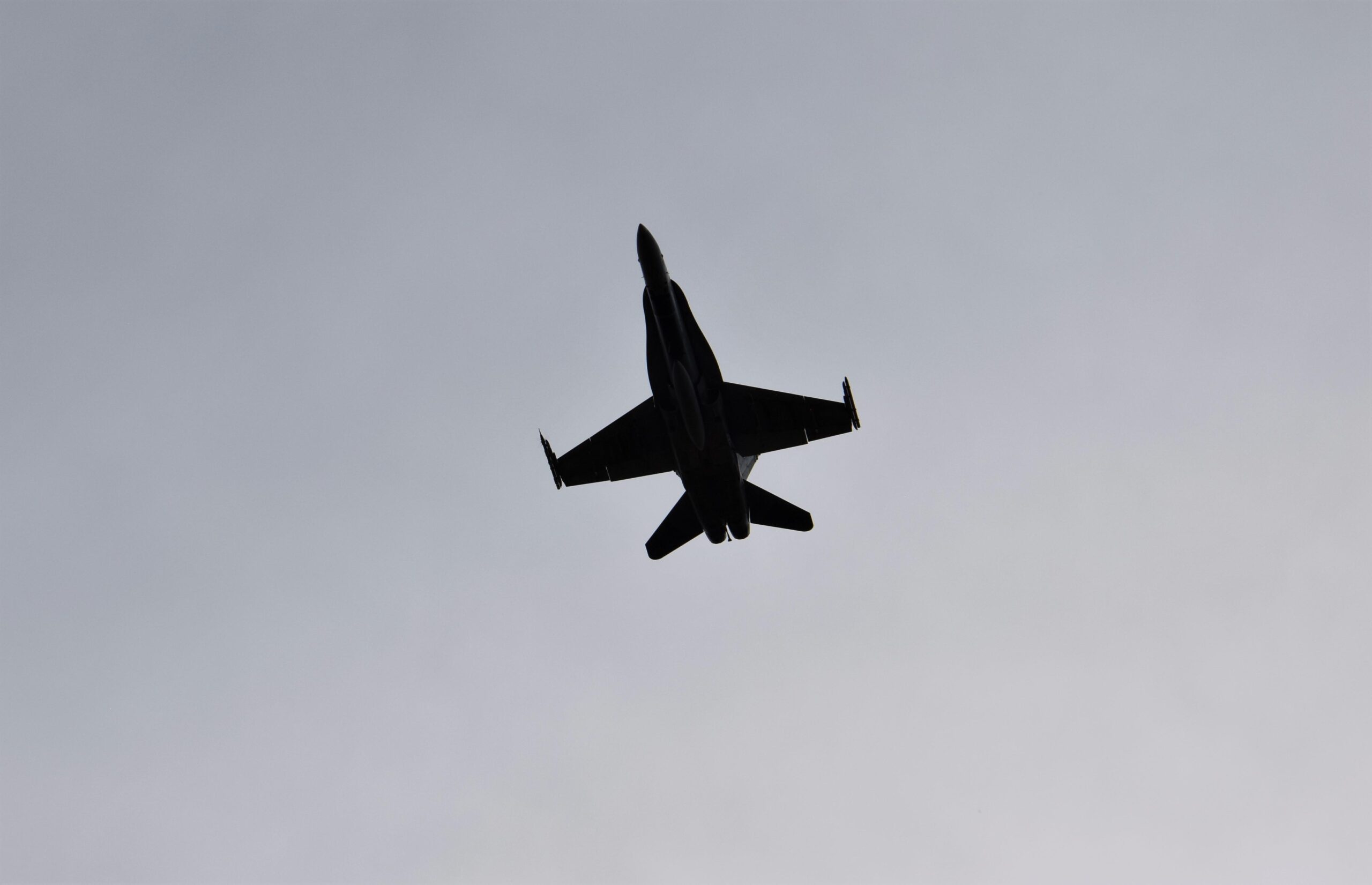 An F-18 fighter jet zooms over the crowd at the Picture Butte Rodeo. Photo by Cal Braid.
By Cal Braid
Sunny South News
The excitement of the Picture Butte PBR Rodeo was made doubly memorable thanks to some nifty planning by event producers Cody and Chantele Debolt. Cody arranged for a flyover from an F-18 military jet at exactly the moment the national anthem was closing, and it went off without a hitch. It was an extraordinary moment on a special evening. The timing was perfect.
Varinder Dhillon, a retired part-time reservist from Okotoks, AB was the man on the ground. "I'm here to coordinate the flight path for the F-18 that's coming in from Calgary," he said, with a radio in hand just minutes before the event kicked off.
"(The pilots) flew the Calgary Stampede this morning and then a scout camp in Cypress Hill Provincial Park. Right now, they're orbiting west of us at about Nobleford," he said. "They're going to be in a left-hand racetrack pattern. Myself, I'm going to coordinate with the announcer and the soundman to make sure they start the national anthem at exactly 16:58:51 and that'll be the one minute and 20 seconds (signal) to those gentlemen in the plane to go ahead and fly over. So, once the anthem ends the F-18 will be here."
"Once they pass (over us) from west to east, they're going to delay five seconds and then turn south and come back for another pass," Dhillon said. "That'll take about a minute and a half to fly the six or seven miles (to turn around and fly back over). Once they're heading west, they'll pull up a little bit and then turn right and go back up to Calgary."
He explained further that "From the corn maze, there's a road bridge right over the canal and that's exactly six nautical miles from here. It will take them one minute to get from there to here. They're travelling at 607 feet a second. The speed is 360 knots, somewhere around 420 miles an hour. For the altitude and airspeed, we have a letter of no objection from Lethbridge County. So, with their permission and at the request of this event, we've been able to go ahead. If we're able to provide support for this fly-pass and we put in the resources for it, then we go ahead and do it."
"It gave me goosebumps," Chantele said after the flyover.
Without a doubt, it ratcheted up the excitement for a great event.