Toews the best fit to be new premier and UCP leader; Hunter
Posted on July 19, 2022 by Sunny South News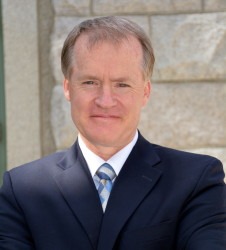 File Photo
By Cole Parkinson
Sunny South News
The race to see who will become the new United Conservative Party leader and the new premier of Alberta has begun. While tons of people have come forward and thrown their hats in the ring for the position, Taber-Warner MLA Grant Hunter has one name in mind for who he wants to see as the new premier.
Hunter officially endorsed Travis Toews last month and the pair hosted several meet and greet events in the area, including in Taber and Coaldale. Toews is the MLA for Grande Prairie-Wapiti and he was appointed as the Minister of Finance and president of the Treasury Board by Jason Kenney back in 2019. Over 20 MLAs within the UCP have already endorsed Toews, including Cardston-Siksika MLA Joseph Schow.
"I've worked with Travis for three years now on the treasury board and as the associate minister of Red Tape Reduction, it was actually under treasury board and finance, so I worked very closely with Travis on red tape reduction. I met with him once a week, and sometimes it was two or three times a week, and I got to know Travis," explained Hunter. "We didn't just talk about red tape reduction, we got to know each other and I saw Travis was very similar to me. He got involved in politics because he wanted a better Alberta for his children and grandchildren. That's the exact reason I got involved in politics. I want a leader that is not a career politician, I want someone that got involved because they feel it is absolutely critical we get it right for our children and grandchildren. I know Travis to be that kind of guy, so I went with my heart on this one and I feel like he is that kind of guy. The kind of guy who is doing this for the right reason."
In introducing Toews to the region with several events, Hunter says plenty of people came out and he's excited about several more coming in the summer.
"He came down and did five events, two of them were in Joseph Schow's riding. The first one was in Picture Butte in the morning, then we went to Coaldale and had an event there for lunch, and then we went to Taber and had a couple of events there — one at 5 p.m. and one at 7:30 p.m. All of them were very well attended and then the next day we had another event in Coaldale with a breakfast meeting and then we had another event in Diamond City after that. There were quite a few events," continued Hunter. "I will be working with Travis as a co-chair for his campaign for all of southern Alberta, so I will be working with 12 ridings in southern Alberta here to help him with his election."
Members of the UCP will have the opportunity to vote for their next leader on Sept. 2 when mail-in ballots will begin to arrive at the doorstep. The ballots will be required to be mailed out on Oct. 3, and for those who prefer to vote in person, there will be an in-person election on Oct. 6 at five locations across the province.
"We will be focusing on membership sales until August 12 and then it will be a little easier. We'll have until October 6 until the election," added Hunter.
For more information on becoming a member of the UCP, visit https://www.unitedconservative.ca/take-action/membership/