County agriculture: An update from Reeve Campbell
Posted on August 3, 2022 by Sunny South News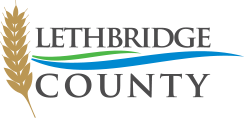 By Cal Braid
Sunny South News
The bombardment of climate-related news from around the world never stops, and global awareness is fine, but it's only natural to think local.
Sunny South News caught up with Reeve Tory Campbell from Lethbridge County to get a sense of how the summer of 2022 is playing out for local farmers. If one was inclined to worry about the low water levels in the Oldman River and canal systems in the spring, the summer rains have been a relief, and greened up the countryside nicely.
"To start, it's important to note that the county covers a very wide area, and as a result, there are different soils, growing conditions, and weather patterns found," Campbell said. "Therefore, while the crops in one part of the county might be excelling, other areas may be falling short of expectations."
"It's also important to note that we are fortunate to have a band of irrigation through the heart of the county, meaning that these producers are less dependent on rainfall and have the ability to raise more diverse crops."
Agricultural health is a crucial part of this region, fortifying both the economic and food assets. Campbell said that so far, the growing conditions throughout the county have been quite favourable.
"The rains earlier in the growing season, while a little late for some, helped to avoid what could have been a very dire crop year. Some earlier seeded crops and fall seeded crops will potentially see some yield loss due to the early dry conditions, but overall, many producers seem optimistic."
"Some crops remain uneven and maturity at harvest time may not be uniform, but this is much better than the alternative, had precipitation not arrived. Increased precipitation has also meant increased disease pressures in parts of the county, with some producers turning to fungicide applications accordingly."
He noted that after last year's drought, some areas have seen "elevated insect pressures. Grasshoppers and other pests have been above thresholds in pockets of the county."
"With the precipitation received, along with the warmer temperatures, we've also seen swaths of hail pass through the county. While this is out of the producers' hands, it's gut-wrenching nonetheless to see a storm roll through and ravage what was once a beautiful crop."
Campbell concluded optimistically, saying, "As harvest quickly approaches, I believe that a majority of producers are looking forward to an average to above average crop. We still have a ways to go, but hopefully, there will be some full bins this harvest."