Michael Bernard Fitzgerald brings live indie music to the farm
Posted on August 3, 2022 by Sunny South News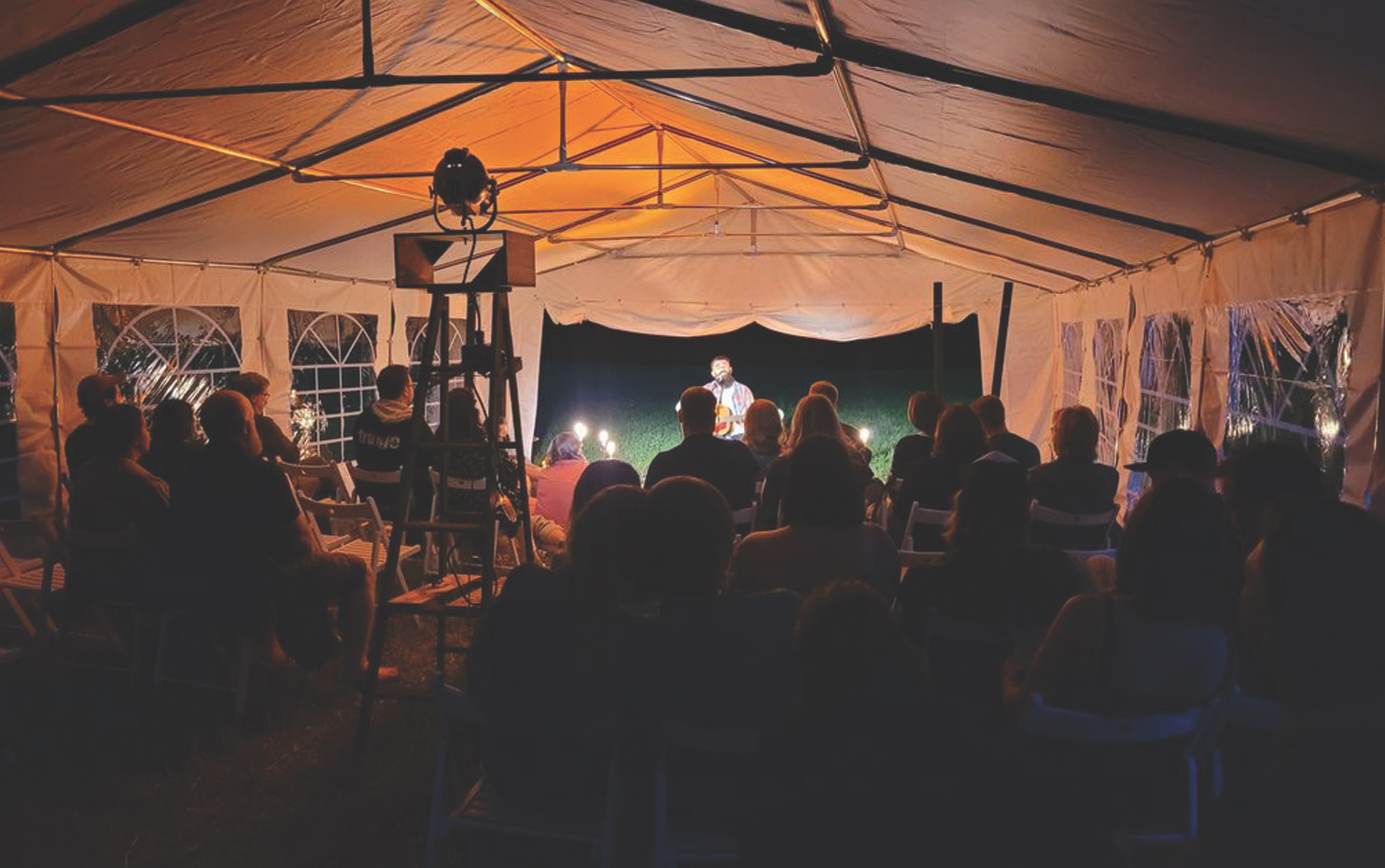 Farm Tour: Michael Bernard Fitzgerald performs in his travelling concert hall venue, "The Greenbriar", and will stop off in Lethbridge for a performance at a location to be announced.
By Erika Mathieu
Sunny South News
Calgary-based singer-songwriter Michael Bernard Fitzgerald has a fairly consistent venue for each performance of his ongoing Farm Tour, and that's because he takes the venue with him wherever he performs. The venue, known as The Greenbriar, which is Fitzgerald's travelling venue, is set up for performances on rural properties within 45 minutes of the city listed on the tour itinerary.
 The concept arose while Fitzgerald was working on his most recent record, Love Valley.
"I started thinking about this idea that it would be cool to be able to maybe have a bit of a consistent place to put these shows on, you know, so I could almost travel with a little venue — like a little concert hall."
He said the initial prototype of the travelling venue was constructed by himself and his partner in a backyard in downtown Calgary. The conceptual contrast of the rectilinear lines representing the modern urbanity of downtown Calgary juxtaposed against the construction of a modest and impermanent gathering and performance space to be deployed to undisclosed rural farmland is stark.
Eventually, a larger tent was purchased which allowed Fitzgerald to tour across the country for several months "putting on socially-distanced shows," totalling close to 100 shows in 2020.
"The venue felt like a little travelling farm tent concert hall," he said, adding the experience was impactful and fun for him and his partner leading to subsequent discussions of the possibility of doing a similar tour again.
"(For) the first tour, we were on farms and we just told everyone that was coming to the show that they have to be ready to travel up to 45 minutes to come to wherever we had the tent set up." Fitzgerald's website has a disclaimer which reads, "you'll receive directions to the venue site on the day of the show by 11 a.m." Although the venue is booked and chosen ahead of time, and set up on-site begins early in the morning, the coordinates are not disclosed to guests until the morning of the performance, adding the element of discovery and adventure.
 Fitzgerald said the main motifs heard on the album Love Valley played well with the expanse of the rural night sky as its backdrop. He described the ambience of these remote and understated farm venues: "When we finish the show up and you come out of the tent and you're just under the stars and it's quiet and it's dark and maybe it's a bit of a break," from the grind of daily life.
 "It is a bit of a leap of faith to go hop in a car and just drive out to a farm and follow Google Maps," not entirely sure of what to expect, "I think a little bit of that mystery, and adventure feels like we're all in on something."
Michael Bernard Fitzgerald will be playing somewhere within 45 minutes of Lethbridge on Aug. 10. To experience the Farm Tour and be a part of the intimate travelling venue, visit https://www.michaelbernardfitzgerald.com/farmtour2, and listen to Fitzgerald's work on Spotify or Apple Music.