Coalhurst's Miners Days itinerary
Posted on August 10, 2022 by Sunny South News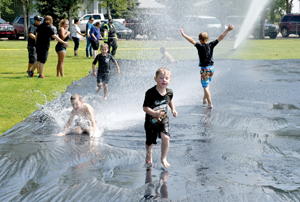 Southern Alberta Newspapers File Photo
By Kenyon Stronski
Sunny South News
The Town of Coalhurst's Miners Days begins on Friday, Aug. 26 and runs until Sunday, Aug. 28 and has quite a few attractions to keep an eye out for.
Friday plays host to one event; the Coalhurst Legion Miners Day Parking Lot Party. The party begins at 5 p.m. and runs until 11 p.m.with quite a few activities to participate in while there; including live entertainment by "Coyote Creek".
Pulled pork buns and coleslaw will be served at the event, alongside a 50/50 and draws for meat. Entertainment for kids is also available, and there will be an outdoor bar service. The event is open to everyone.
The Legion will be open at 4:30 p.m. and will play host to free pool, darts and shuffleboard. Kids that are under age are welcome until 8 p.m., however, they must be supervised at all times while in attendance.
Saturday brings three events to the table — a Parade, 'Party-In-The-Park' and a 'Movie-In-The-Park'.
Registration for the parade is available by emailing coalhurstparade@gmail.com or calling the Town at (403) 381-3033. It starts at 10:00 a.m., going down 2nd Street until turning left onto 51st Avenue, taking another left on 4th Street before a final left on 55th Avenue where the parade will cease.
Following the parade, 'Party-In-The-Park' brings a slew of events from 11 a.m.-3 p.m. at Imperial Meadows Park. The poster says there will be, "bouncy castles, laser tag, train rides, a slip and slide, a spray park, cotton candy, food trucks and much more."
Finally, to bring Saturday to an end, the Coalhurst Parks and Recreation Society brings forth the 'Movie-In-The-Park' come dusk also at Imperial Meadows Park.
"Movies will be picked closer to the date, we will have a concession and will also be serving free popcorn and water. Bring blankets and lawn chairs."
Two events are slated come Sunday – the Historical Walking Tour and a Show and Shine in Miners Park.
The walking tour is self-guided, and the poster states "Take a walking tour of our town and learn about our history and what makes Coalhurst so special."
Registration for the Show and Shine is free, running from 10 a.m. until noon with the show beginning at noon and running until 4 p.m. There will be food trucks, music, and awards for those in attendance. For more information on the Show and Shine, you can contact Daniel Kambietz at (403) 394-8486 or email coalhurstshowandshine@gmail.com.