Visual artist showcases work in Picture Butte as part of travelling exhibit
Posted on November 24, 2022 by Sunny South News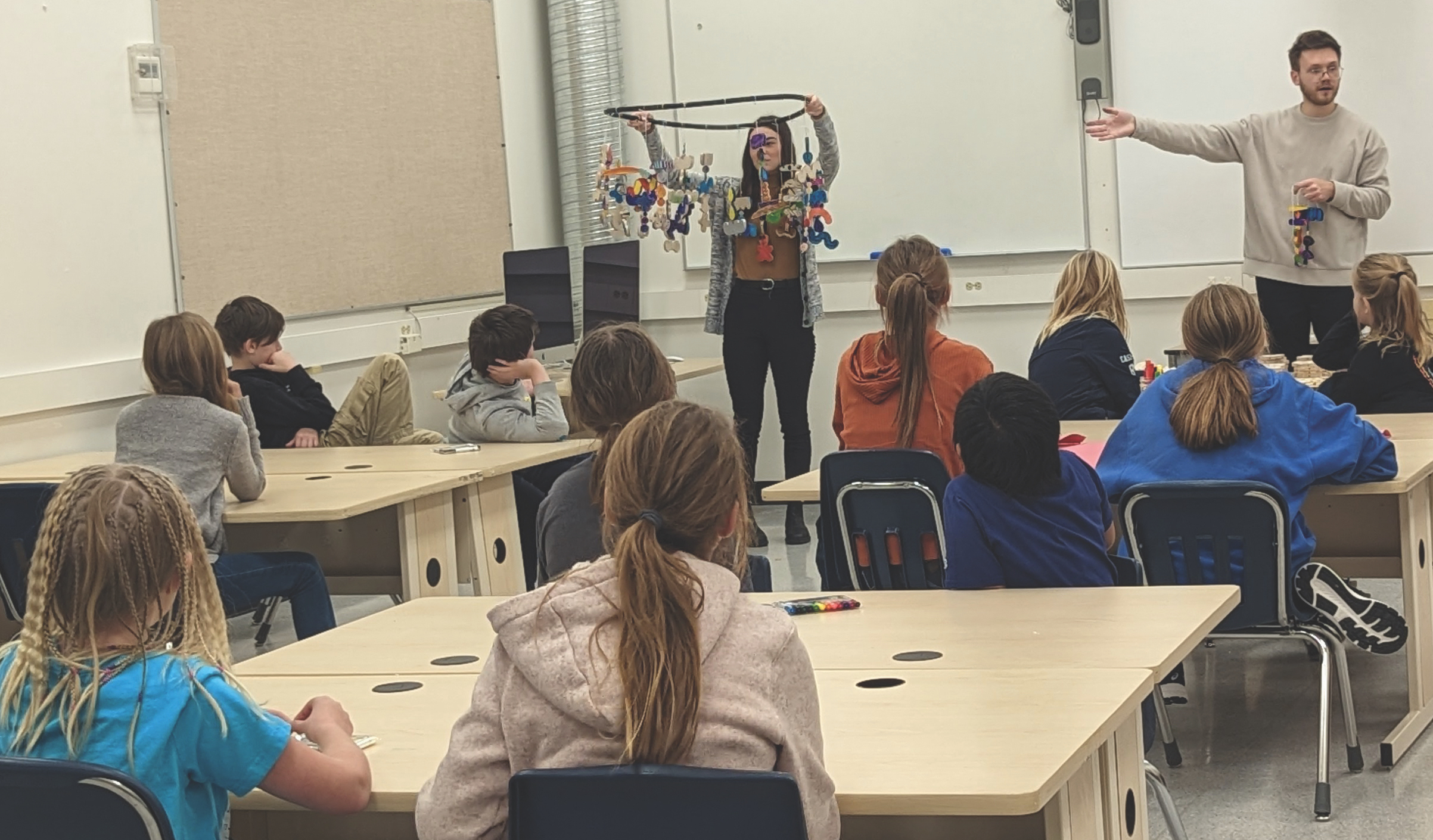 Art workshop: (Right) TREX southwest feature artist, Joel Warkentin leads creative workshop for students are Dorothy Dalgliesh elementary School. Warkentin's work is currently exhibiting at the school as part of the Alberta Foundation of the Arts Travelling Exhibit program.
By Erika Mathieu
Sunny South News
Dorothy Dalgliesh students recently flexed their artistic muscles by embracing a creative workshop led by artist Joel Matthew Warkentin, the featured artist for the travelling exhibit program (TREX) in partnership with the Alberta Society of Artists (ASA) and The Alberta Foundation for the Arts (AFA).
Dorothy Dalgliesh Elementary School is currently showing the work of Warkentin and his exhibition is titled "The Nameless Boy who gave his name to Sunday". It features performative photography which incorporates various wood sculptures created by Warkentin. The photos are exhibited down the main hallway of the elementary school. As part of his stop, Warkentin led two workshops with students using wood sculptures he prepared and felt markers.
The students worked to create representations of the feelings associated with a particular memory. Whether literal or conceptual, the students were asked to dedicate their time in the workshop to creating pieces of significance. Following the workshop, the student's pieces were hung on a hoop, which will be displayed in the gymnasium as a collective project.
Warkentin said the exercise was designed as a "way for students to represent their feelings," around a particular memory.
The students, eager to hear about the life of a working artist, asked about Warkentin's use of materials and his favourite mediums. He told the class, "I love being in the wood shop. I love working with wood." Warkentin has a strong connection to woodworking.
"There is so much knowledge in my personal history that was passed down (generationally)," he said, but added there is also "a cultural history" in play with his work, which he sees as working together in a sort of dialogue.
Warkentin added both his grandfathers worked with wood. One was a toymaker and dollhouse maker, and the other focused on building and construction.
With perspective a key focus of the series, Warkentin said, "I was very drawn to this idea that anything could be anything."
His photos capture various objects in new or innovative ways, and represent familiar objects in unconventional configurations, offering the viewer something recognizable, but through a different perspective. According to the artist's statement on the series, "the sculptures interact with the 'feeling space' through their materiality, through their object-ness; the photographs exhibit how these sculptural tools communicate with another space, a place of spiritual and unconscious inquiry." One image, titled Interaction #9, depicts a piece of wood running horizontally across the photo's subject, creating a spatial separation of mind and body; the subject's head is tilted slightly, while his eyes are searching the visually empty space above and the wood sculpture, a material object, juxtaposes the spiritual symbolism of the less tangible thing that is "out there, above."
Similarly, Warkentin channelled this idea of capturing or exploring this "feeling space" in the student workshops. Students were guided to focus on taking something intangible, like a memory, and utilize available materials to explore the feelings of that memory through an entirely new perspective.
"The Nameless Boy who gave his name to Sunday" will continue travelling to various spaces across southwestern Alberta until the summer of 2023. For over 40 years, the AFA has supported a program aiming to bring art to all Albertans, particularly for small and rural communities which may not have the same access to gallery spaces and artist exhibitions as people living in urban centres with large dedicated artist communities. Exhibits from the travelling exhibition program (TREX) temporarily occupy community spaces such as schools, libraries, and other small-scale rural institutions like Dorothy Dalgliesh elementary school, all over Alberta.