Schow reviews constituent concerns as election looms
Posted on January 26, 2023 by Sunny South News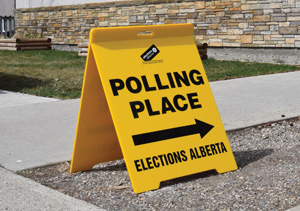 Sunny South hoto by Nikki Jamieson
By Cole Parkinson
Sunny South News
Alberta politicians will be hitting the campaign trail in the next several months as Albertans head back to the polls for the spring election. With Cardston-Siksika MLA in constant contact with people across the riding, he's already got a good feel for what they want to see from a provincial government moving forward.
"What I am hearing from my constituents, and what I suspect my colleagues are hearing, are jobs, economy, affordability, and access to healthcare. This is just so crucial and we have a good thing going in this province and we don't want to squander it. We don't want to give that back to a party that doesn't see the value of the energy sector, the value in attracting investment and balanced budgets that we've seen in the province the last two years. I have to give a lot of credit to our finance minister over the last few years as he's helped us navigate these difficult fiscal waters," he said.
Looking for re-election, Schow is hopeful constituents see the value he has brought over the last three and a half years as the MLA for Cardston-Siksika. He says the job has been an exciting one for him and he hopes to continue forward for the next four years following the coming provincial election.
"I love being able to help people. There are so many unique opportunities to help and to make someone's life better. Whether that's dropping off doughnuts, talking to someone in the ag sector who needs help with a particular project, or helping your local businesses. I really enjoy the face-to-face communication and interactions with people. Getting to know what happens in their lives, seeing what makes them tick, and what matters most to them," he continued. "I think over and above it all, it's about their family and being able to support their family and be there for them. That requires a good job, and a strong economy, and that's what people are telling me. I love being able to help them with that and helping them find solutions to their problems. The government can either get out of the way or the government can navigate some of the processes to make their lives better."
The 2023 Alberta general election is scheduled to be held on May 29, 2023. For further information, visit http://www.elections.ab.ca/