Wellness, student engagement and inclusion focus for Palliser
Posted on February 22, 2023 by Sunny South News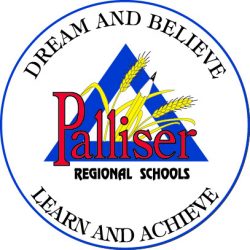 By Nikki Jamieson
Sunny South News
After a great year with the division, Palliser School Division Superintendent Dave Driscoll said it was nice to be able to celebrate it in-person with their families and communities.
With the dropping of COVID-19-related restrictions, the division continued to retain some pandemic-era policies, such as enhanced illness prevention measures during times of high illness. This includes increased hand hygiene, more frequent cleaning of high-touch surfaces and reminding staff and students that if they are ill, to please stay home. Schools had also put in place strategies to stagger entry and exit times in schools during the pandemic, and some have continued the practice, as it allows for better student flow.
Driscoll noted that while "education as a whole is a slow adopter of change", the pandemic forced the sector to adapt quickly, and the division learned many valuable lessons.
"We know some students thrived with online learning and continue this practice today, while others struggled greatly, and the experience was not positive. Our takeaway is that we need to continue to be flexible and a reminder that each student learns differently, and we are to keep all avenues open to allow for each student's success," said Driscoll. "The pandemic also highlighted that while teaching the curriculum is essential and can be done online, teacher-student interaction and human-to-human bonding is a critical part of learning and is maximized when students are in a school building."
Driscoll noted that while many of their students had stayed online when they returned to on-site learning, as the year progressed, students in their younger grades returned to traditional schools. Currently, online enrolment in the older grades is similar to pre-pandemic numbers, and the division expects this to continue with those preferring online methods of learning staying with the program until graduation, and the requests for online learning in the younger grades decreasing. With growth in both the Calgary and rural schools, enrolment sits at about 9,300 students this year.
The school division is focusing on student engagement through dual credit and career exploration.
"Palliser will continue to seek out ways to engage students in their own learning by providing access to a variety of learning opportunities," said Driscoll. "These will include expanding dual credit opportunities with post-secondary institutions, new work experience locations, access to learning about the trades and other opportunities for students to expand their experiences through education."
There is a particular focus on wellness, with the division hiring a Wellness Navigator to support all their schools. Another is developing their vision for inclusion.
"Celebrating our diversity and establishing a culture where all students can learn alongside their peers is our goal," said Shane Cranston, director of learning for the school division. "This work has been driven by our school leaders through professional development. With guidance from inclusive education experts such as Dr. Shelley Moore, our administration team and Learning Support Teachers have been working through topics such as the guiding conditions of inclusion and designing programming with diversity in mind. This focus will positively impact all students in the pursuit of learning excellence."
Palliser's international program had reached capacity this year based on the availability of homestay families. As international students see Canada, Alberta and Palliser as great destinations to get an education, inquiries from around the world have already started for the next school year. The division is looking for local families that would like to welcome a student into their homes. Those interested can contact palliser_international@pallisersd.ab.ca