Coalhurst remuneration policy postponed
Posted on February 28, 2023 by Sunny South News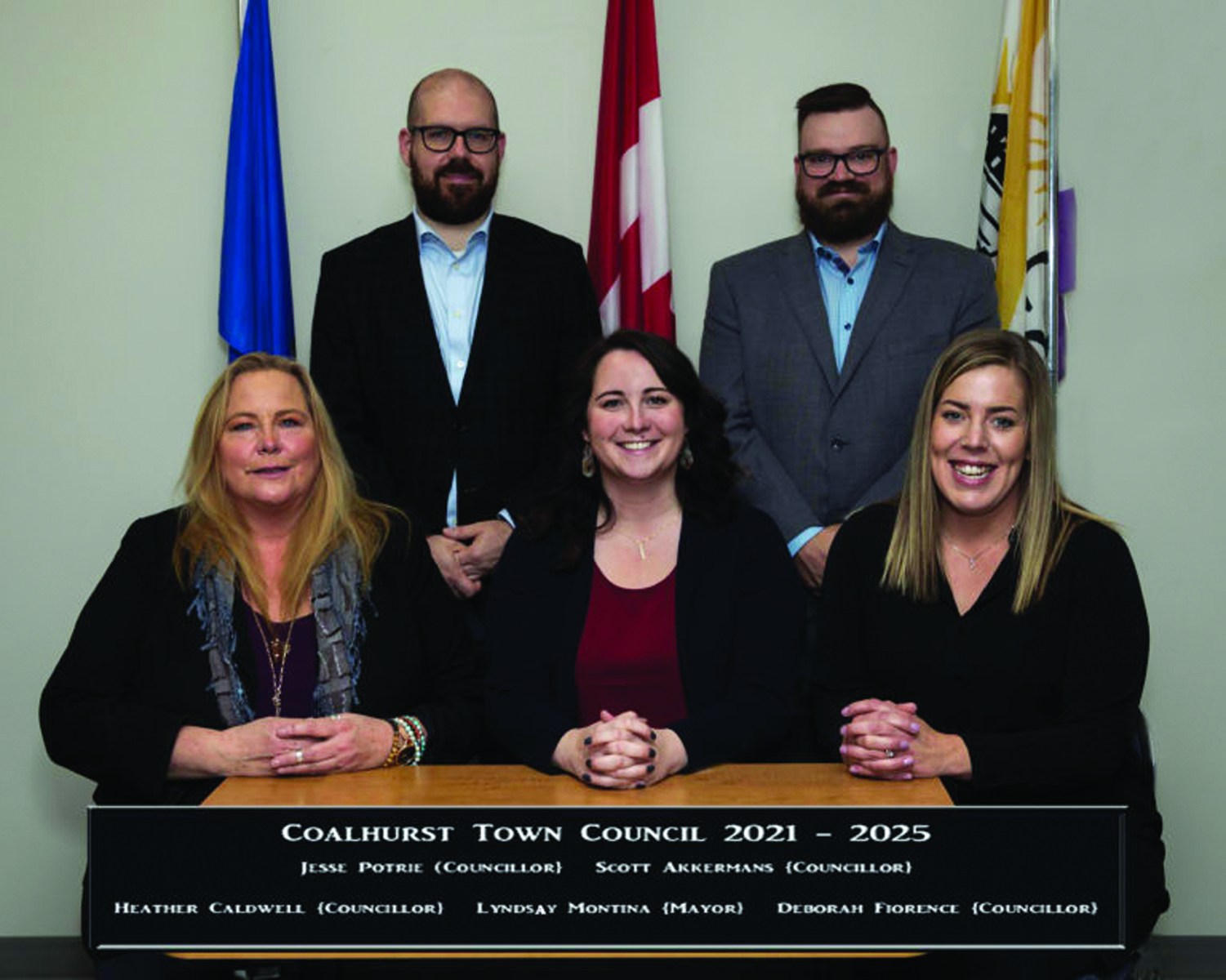 From left to right: Coalhurst councillor Heather Caldwell, Councillor Jessie Potrie, Mayor Lindsay Montina, Councillor Scott Akkermans, Councillor Deborah Florence.
By Nikki Jamieson
Sunny South News
The adoption of a new council remuneration policy has been postponed to a future council meeting.
During their regular Feb. 21 meeting, Coalhurst town council considered a new Council Remuneration Policy.
Previously, during council's regular Dec. 6, 2022, meeting, they voted to postpone deliberation on the policy pending more information from the CAO regarding the comparator municipalities and a report to Council at the Jan. 17, 2023, council meeting.
When the matter returned to council last month, council passed a motion to refer the matter relating to Council Remuneration to the Policy Bylaw Risk Review Committee, and that the Committee return to Council with a recommendation no later than May 2, 2023.
At the Feb. 13 Policy Bylaw Risk Review Committee meeting, the committee looked at the draft Council Remuneration Policy, and amended it to include:
• Changing "honorarium" to "salary" to reflect the reality of Council's remuneration.
• Amending the annual salary for the Mayor to $25,000
• Amending in the annual salary for Councillors to $20,000
• Amending the definitions of Standing Committee and Ad Hoc Committee
• Addition definitions for External Standing Committee and External Ad Hoc Committee
• Under "External Compensation: External Standing Committees," the Committee included two options. The first option is to have external remuneration sent directly to the Town. The second option is that the Town waives any external remuneration offered
Mike Passey, director of corporate services for the town, told council that the wording change to 'salary' was more appropriate. Additionally, the salary amendments for the mayor and council aimed to better reflect the amount of work they were doing.
"This goes in line with the actuals we've see come through in 2022, the increase in work that council is doing going forward and the desire to do more, be more present – more committees with the town, more boards," said Cassidy. "What this would mean then is there would be an addition to the budget, the 2023 budget, of $25,000 (for council renumeration)".
Coun. Deborah Florence noted that council had wanted to be more "efficient" in terms of remuneration, and this allowed for them to be more transparent and organizational efficiencies.
Council unanimously passed a motion to accept the draft policy as presented and postpone a decision to adopt the draft policy to a future meeting of Council.