Cancer Bats on the road for Alberta tour
Posted on March 7, 2023 by Sunny South News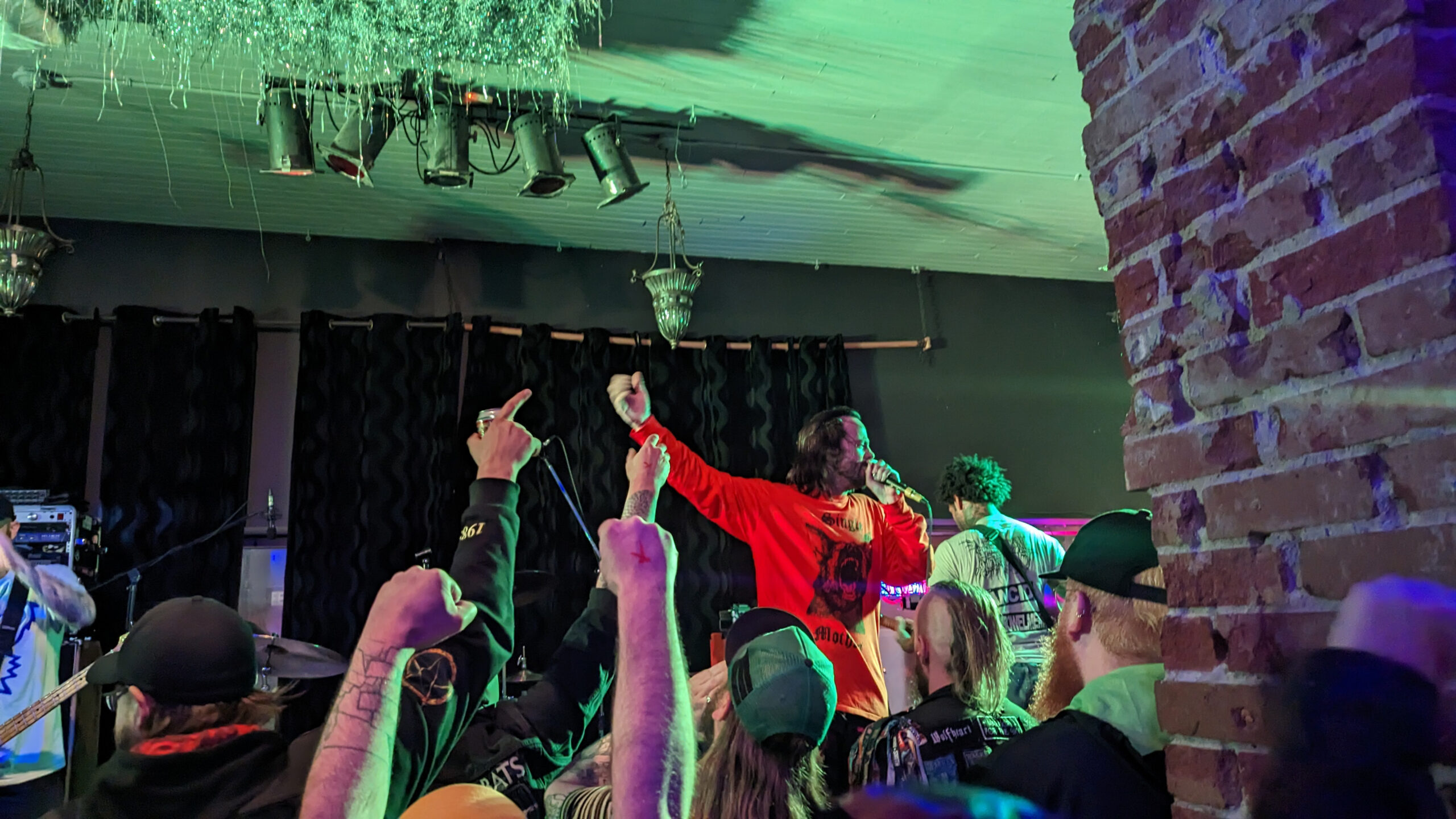 Cancer Bats play to a sold out venue at The Slice in Lethbridge March 7. The Canadian band has recieved their 6th JUNO nomination ahead of the upcoming awards show which will be held in Edmonton on March 13.
By Erika Mathieu
Sunny South News
Canada's iconic hardcore-sludge metal band, Cancer Bats, are returning to Alberta for a six show tour this month joined by the Calgary-based band, Trench.
Cancer Bats have garnered their sixth JUNO Award nomination for their 2022 album Psychic Jailbreak in the Metal/Hard Music Album of the Year category.
The album was released to critical acclaim in April 2022, and is the band's first album written and recorded since the departure of founding member Scott Middleton in 2021. The six-date Alberta tour has both Medicine Hat and Lethbridge as stops in the week leading up to the 2023 JUNO Awards on March 13. The band's new guitarist KT Lamond and touring guitarist, Stephen Harrison both performed at the sold-out Lethbridge Show to an energetic group of fans.
Vocalist, Liam Cormier, said, "Playing shows in Alberta is like the most unique, rowdy, and wild experience that we've been lucky enough to be doing for the last 15 years. When we first started coming out to Alberta we had no idea. We were showing up to play these shows in Alberta and they were two or three times as big as anything we had seen, like there's so many bands, there's so much like happening."
Psychic Jailbreak is pleasantly on-par with previous Cancer Bats records in terms of the fullness and explosiveness of their sound. Cormier pointed out that the current members, himself, Mike Peters, and Jaye R. Schwarzer, have been writing and performing together for well over a decade.
"It's always been a collaborative process," said Cormier, noting Schwarzer has always played a key role in writing and playing guitar for the group, and said some people are now hearing it for the first time.
Several tracks on Psychic Jailbreak explore ideas related to chaos, destruction, and the confines of society."I think there's a lot of things that I look to in terms of existing within chaos, whether it's our minds or the world that we're living in, and finding that peace despite everything being turbulent," Cormier said adding, "the heavy music community is a good place for that."
Several tracks including "The Hoof", and protest anthem, "Friday Night" allude to the emancipatory potential of deconstructing dominant systems or institutions in society to build something new and better in its place.
"It's also (a matter of) embracing that destruction," Cormier continued, "I think sometimes we tend to be scared to shake things up, and this album is like proof it can be good to change things up, and shift the dynamic. (In doing so,) something new comes to light. It changes us for the better, and can push us to do different things."
Speaking of breaking convention, the album was written and recorded in a post-COVID landscape and an era of great uncertainty and upheaval. The work includes several lyrical references to a greater cosmic existence, interconnectedness, and the linearity of time. The title track instructs the listener to, "reject the fallacy of time", and "smash the hourglass."
"I think there's a lot of stuff that has happened over the past few years where people are starting to maybe just question the norm a little bit more."
Cormier also noted how the rise in short-form digital content found on TikTok and Instagram, and popular culture has increasingly played a role in providing access and proximity to ideas about the universe and physics which were previously considered niche and noted how in recent years, people seem to be more open to discussing diverse conceptions of physics and the universe.
"I feel like Cancer Bats has always been about these ideas, and I feel like this album was just kind of exploring that more. I think we interact with all of our fans and like have these great conversations with people and have realized more people are up for (talking about) it," said Cormier.
According to Cormier, Cancer Bats are, "really excited," about the upcoming show dates in Alberta.
"It's just such a special thing to come back to."
Cancer Bats' Psychic Jailbreak can be streamed or purchased online and at select retailers or at https://www.cancerbats.com/music.