Barons donates equipment to Ukraine following fire department closure
Posted on March 22, 2023 by Sunny South News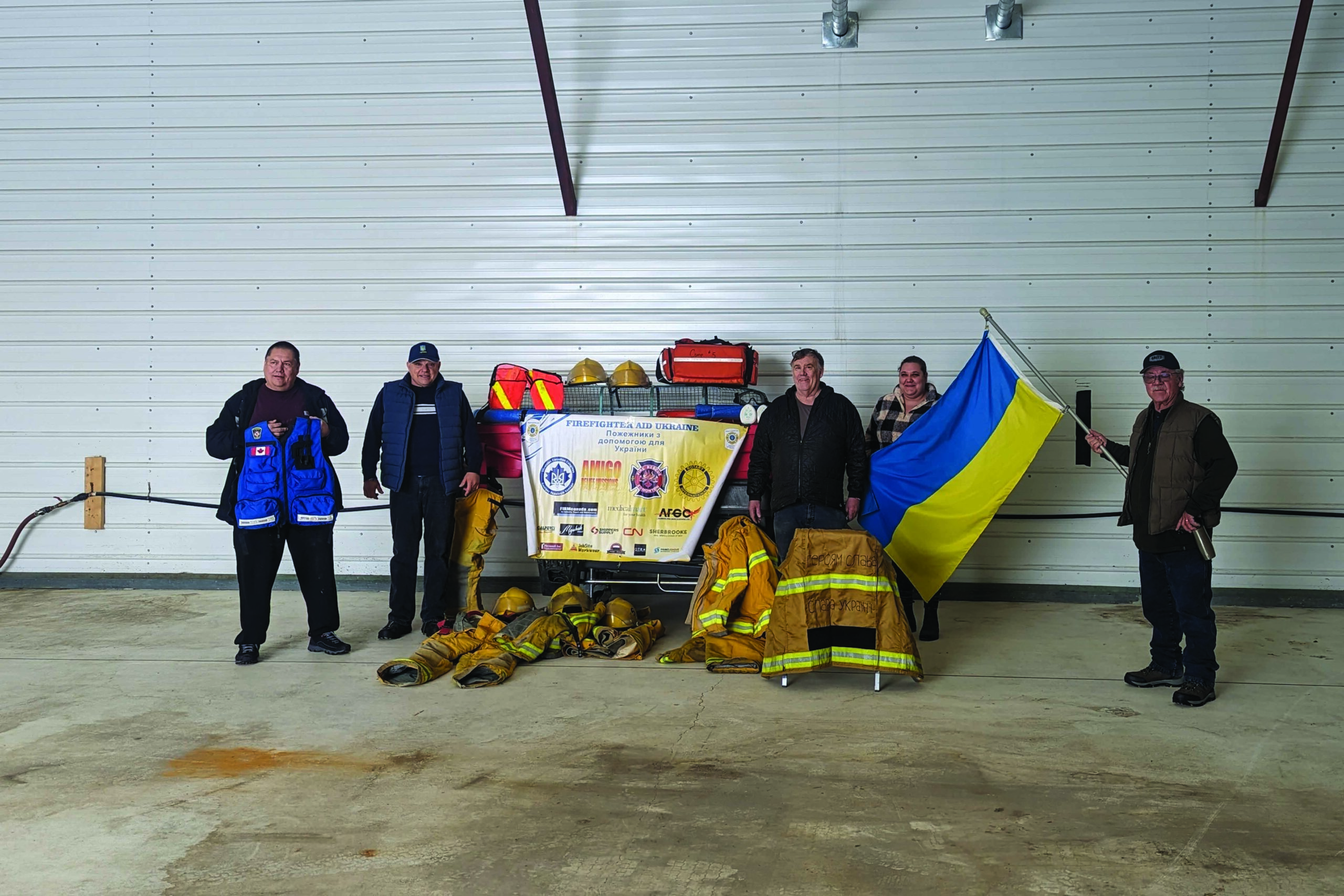 Barons makes donation: (L-R) Acting Mayor Daniel Doell, Paul Wasylewich of Firefighter Aid Ukraine, Ed Weistra, Village Administrator, Jen Durell, and Councillor Ron Gorzitza stand behind some of the fire and rescue gear that will be sent to Ukraine through FFAU.
By Erika Mathieu
Sunny South News
It has been nearly one year since Barons was forced to disband their Fire Department due to a lack of volunteers and resources to support career firefighters.
Although much of the equipment was transferred to nearby stations in Nobleford and Picture Butte, there was some fire and rescue equipment that no longer met the rigid safety standards in Canada. It was music to the Village's ears when they learned the supplies could be donated to Firefighter Aid Ukraine (FFAU), a volunteer-run not for profit in Alberta that charters cargo jets to get needed medical and rescue supplies over to Ukraine.
Established in 2014, Firefighter Aid Ukraine has utilized a wide network of volunteers to administer critical aid to Ukraine. In the week following the beginning of the conflict in February 2022, the organization successfully collected 14 tons of life rescue equipment, medical supplies and PPE, before departing from Edmonton in a chartered cargo plane on March 10, 2022.
Paul Wasylewich, FFAU's southern Alberta coordinator, stopped by the Barons Fire Department on March 14 to collect the donation. Collected supplies are brought to a warehouse in Calgary, and once cleaned and packed are transported to Edmonton before making the journey across the Atlantic to Ukraine. The Calgary warehouse is an old Ford dealership in Cochrane, and has been offered for FFAU's use for as long as the organization needs it.
"Something that started off as a small ask has snowballed," said Wasylewich.
FFUA developed a partnership with the Ukrainian National Service, allowing the organization to expand their network in Ukraine. Once the donated supplies arrive in Ukraine, various organizations ensure the supplies are distributed as needed to all corners of the county.
Wasylewich explained, "each load, we can send 30,000 kilos, which is about 16 crates." From x-ray machines to dialysis machines, and fire gear and medical supplies, FFUA has sent over 250 tons of  gear to Ukraine to date, with more on the way.
"Just from southern Alberta, we have sent over 407 full (outfits) boots, pants, balaclava helmets, plus about 80 full breathing apparatuses," said Wasylewich, adding, "just from this organization (FFUA), we've sent 10,000 full sets of fire gear," to Ukraine. Wasylewich noted the winterization of Canadian gear have proven to be an advantage in frigid winter conditions in Ukraine.
Also in attendance was Paul's wife, Cori Wasylewich. She said "the small communities have just been amazing. They are the ones who showed up first and they are the ones who give the most."
Mayor of Barons, Ed Weistra, said the opportunity for the small village to help has been emotional, and Village residents agreed it was a great comfort that something good came out of the closure. Coun. Gorzitza said knowing the equipment was needed, "helped to put a positive spin on an unfortunate situation for the village."
Weistra added, "we have so much here; I feel good in my heart to give it to those people. I am so happy that it is not getting thrown out."
 FFUA is still collecting donations and sending supplies overseas for distribution. To learn more about the Firefighter Aid Ukraine or to donate to the cause, visit https://www.firefighteraidukraine.com/.