Palliser teacher honoured with Queen Elizabeth II Platinum Jubilee Medal
Posted on March 28, 2023 by Sunny South News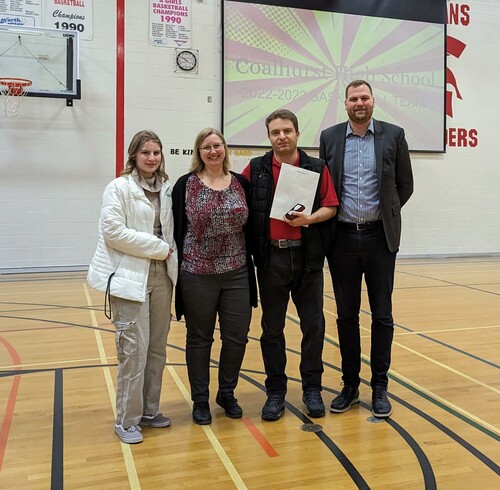 Photo courtesy of Palliser School Division.
By Erika Mathieu
Sunny South News
Coalhurst High School teacher, Michael Saad, has been awarded the prestigious Queen Elizabeth II Platinum Jubilee Medal.
The medals are awarded to a distinguished group of recipients who were nominated by other Albertans who indicated the nominee should be recognized for their contributions and commitment to their communities.
Although the tradition of commemorative medals dates back to the middle ages, since the 1930s the selection criteria has changed and are now awarded with "equitable representation" in mind. The Queen Elizabeth II Platinum Jubilee Medal was created in 2022 by the Provincial Government and will be awarded to 7000 Albertans who are emblematic of the late Sovereign's own commitment to public service.
Michael Saad currently teaches social studies at Coalhurst High School, where he has been working for 19 of his 25 years as a teacher.
Saad said receiving the prestigious medal was, "a big surprise and an even bigger honour. Growing up as a Canadian, I had a fond reverence for the Queen, as did my late Grandmother Rose Saad."
Saad said he was able to see Her Majesty Queen Elizabeth, and Prince Phillip speak in 1987 during a visit to Victoria, B.C.
Saad credited his late grandmother Rose's affinity for Queen Elizabeth II, and said her teachings were instrumental in cultivating his own life-long interest in British history and the Royal Family.
"Even though we weren't 'British Canadian' by ethnic heritage, I grew up respecting the institution and felt very much like she was 'our Queen, Canada's Head of State.'"
Saad was presented with the Queen's Platinum Jubilee Medal on March 10 during a ceremony in which he assumed he was being acknowledged for his contributions to the planning and execution of Remembrance Day Ceremonies.
"I was grateful to have been surprised by my wife and daughter at the ceremony. As soon as I saw them come through the gym doors, my stomach dropped," he said.
"As far as the award itself, I feel like very much it's an extension to our entire staff of Coalhurst High. We are a very supportive team."
Saad expressed gratitude for the "synergistic" and supportive network of colleagues, students, and administration at Coalhurst High School.
"Perhaps the biggest appreciation about the whole thing now was to not only have my current students at CHS applaud when I received the medal, but after-the-fact to hear from former students, colleagues, and friends whom I haven't seen or heard from for awhile reach out and offer congratulations and thanks for my contributions. That has been especially touching to receive those well wishes."
Also in attendance were MLA Joseph Schow and Superintendent of Palliser School Division, Dave Driscoll, who was also a recipient of the Queen's Jubilee Medal. Saad noted Driscoll was, "instrumental" in nominating Saad for the award. Driscoll was also a recipient of the award.