High school comedy taking the stage in Picture Butte
Posted on May 9, 2023 by Sunny South News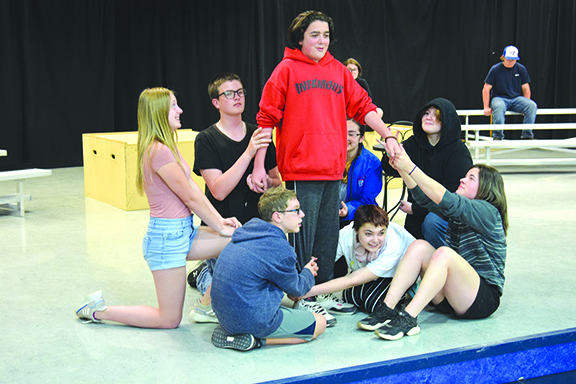 Sunny South News Photos by Erika Mathieu 30 Reasons Not to be in a Play: The cast of the upcoming comedic drama production will open at the Picture Butte High School on May 16, and will run through May 18.
By Erika Mathieu
Sunny South News
Students at Picture Butte High School have been busy rehearsing getting ready to put on this year's play called "30 Reasons Not to be in a Play." Written by Alan Haehnel, the play is being directed by teacher Mark Ogle and will feature 16 talented students ranging in age from grades 7-12. The production, which will run at the high school from May 16-18 promises to be a memorable night for audience members.
The comedy, "30 Reasons Not to be in a Play" pokes fun at stereotypes and tropes which are often associated with high school productions. The play features a series of satirical sketches and monologues which consider 30 reasons why someone might not want to get involved with a school play. Some of the reasons include stage fright, being forced to wear a costume you don't like, or "because your older sister was in a play and she loved it, so you have to hate it." The play is bound to have audiences howling with laughter from start to finish.
According to Mr. Ogle, the decision to select this particular play considered several different factors. The 2022 production had moments where it was rather heavy in tone, and Ogle said this year he wanted to choose something that was light and comedic, and made fun of itself. 
Grade 12 student Abby Leusink, who plays 10 different characters, said she was inspired to join the drama production thanks to Mr. Ogle. Leusink, who is also a student athlete, said early on in high school she was apprehensive about taking centre stage when she first enrolled at the high school in grade 7, but said after taking drama as an elective course, she was encouraged to join the school's year-end productions and has been involved since grade 8. 
Leusink, who is headed to Lethbridge College in the fall to study psychology and play for the women's soccer team said beyond the creative advantages of being involved in the drama department's productions, the experience has been a catalyst for other practical skills which will serve her professionally as well. 
"Just kind of seeing how the maturity levels of different people and different ages because it's not always what you'd expect. It's interesting to see how different people interact."
Grade 11 student Marianna said Mr. Ogle's encouragement factored heavy in her decision to join the cast, and despite her fear of public speaking, she eventually embraced the challenge. 
"I'm scared of public speaking, so it was pretty out of my comfort zone, but I like doing things out of my comfort zone," she said, adding that Mr. Ogle's leadership and encouragement has been beneficial to all of the actors.  
"It's also about feeling like you're part of something and it's really fun to see how people progress through it because sometimes they're like really scared that they're not going to remember their lines or stuff like that, but at the end of the day, when you see them (do it), it's a really good feeling to see that and they knew that they could do it, even though they were scared." 
When asked about what he enjoys most about being involved in the school play, Grade 9 student Gavin Johnson said, "I like the attention," and added that being a part of the production has helped him in other extracurriculars such as the 4H club, which helps build public speaking skills as well. 
Director Mark Ogle said that this particular production suits the school well because the script calls for minimal set and costuming while still allowing students a creative framework to explore and develop their characters as actors. He explained, "30 Reasons Not to Be in a Play," lends itself to students developing new and unique characters rather than relying upon popular scripts and characters from mainstream productions. "I believe that picking plays which have minimal elements allows the actors to shine through more." 
"It teaches students to be creative and participate in something that offers merit to both the school and the community."
Ogle said he hopes community members will come out to support the hard work each member of cast and crew has put into bringing the story and characters to life. The show will premier on May 16 at 7 p.m., and run through May 18. Contact the office for more details or to purchase tickets.