Posted on May 16, 2023 by Sunny South News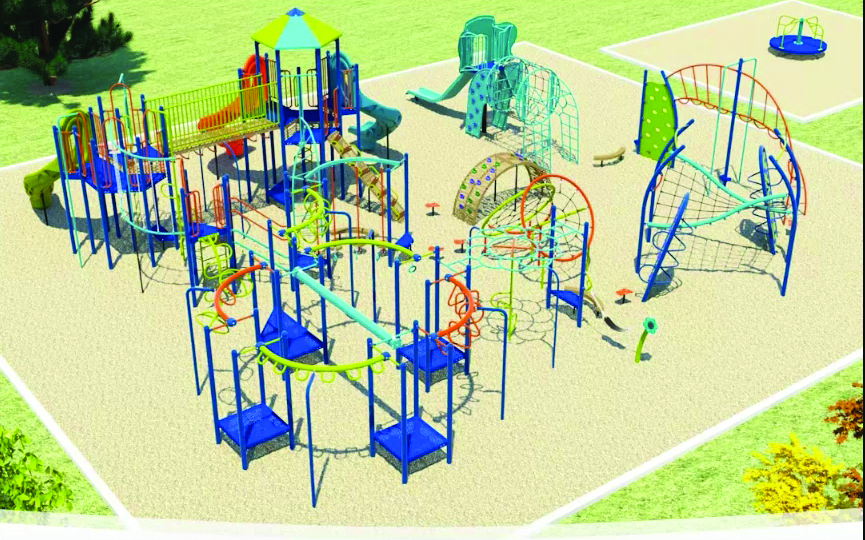 Shaugnessy: A rendering of the final design of the new Shaugnessy playground. Volunteers are needed to assemble the equipment from May 31- June 3.
Shaughnessy Recreation Association receives grant funding for new playground equipment
By Erika Mathieu
Sunny South News
The Shaughnessy Recreation Association recently formed a committee to address the outdated playground equipment in their community. After applying for grant funding, the community received $125,000 from the Province's Community Facility Enhancement Program (CFEP). Lethbridge County has also approved funding for the project and will match the CFEP grant, plus more.
Helen Rueben, of the Shaughnessy Community Association, told SSN, "We were so grateful for the approved funding and the community is very excited." The playground's design includes multiple slides and climbing equipment. The project will also see the installation of new fencing around the sides of the hockey rink and the rink will be resurfaced, and will see the addition of a pickleball and basketball court.
Volunteers are needed to assist with building and assembling the new equipment between May 31 to June 3 in the hamlet.
"We are looking for volunteers, and any kind of help to assist with building and assembly. We had all old playground equipment, and a lot of it had to be replaced," said Rueben, adding that current equipment in good condition previously purchased by the Shaughnessy Community Association will be relocated back to be used by the Shaughnessy Community Hall.
The community was in need of more modern and updated playground equipment, such as a new jungle gym-style apparatus, following the condemnation and planned removal of some of the older playground equipment.
The courts upgrades are planned for late July and Lethbridge County is matching funds for the project as part of their 2023 capital budget.
Overall, the community is excited about the upcoming improvements to their recreation facilities. According to Rueben, "the rentals are booked up nearly every day of the week for pickleball players in the community hall." It is clear that the new playground equipment and upgrades to the hockey rink will bring joy and entertainment to the Shaughnessy community for years to come.