Coaldale agrees to interest-free payment schedule for RCMP back-pay
Posted on May 24, 2023 by Sunny South News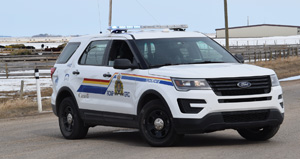 Sunny South News file photo.
By Erika Mathieu
Sunny South News
The Town of Coaldale has accepted an offer to enter into an extended payment plan with the federal government to pay back $345,798 owed for RCMP retroactive pay.
The Town experience sticker shock in March 2023, when they received an invoice for the RCMP back-pay which had tacked onto it $85,000 more than was budgeted for.
During the May 8 council meeting, Coaldale's Chief Financial Officer, Kyle Beauchamp explained the initial estimate did not take into account Coaldale's unique situation which requires the Town to pay for 100 per cent of RCMP contracted policing costs, an error and oversight on the part of the federal government.
Coaldale is currently the only municipality with a population between 5000-15,000 currently responsible for 100 per cent of contract policing costs, while other communities meeting these population metrics only have to pay 70 per cent of  the cost of RCMP services, and the remaining 30 per cent is paid for by the federal government.
Beauchamp presented a timeline of events to council during the May 8 meeting. In August 2021, the federal government and RCMP signed a new collective agreement, which included an adjustment for retro-pay dating back to 2017. In December 2021, the RCMP's finance department provided for Coaldale an estimate of $260,725 for back-pay and was based on a 100 per cent cost estimation, not a 70/30 split.
By February 2022, Public Safety Canada, which had the final say on the calculated retro-pay amounts, provided the Town with an estimated total between $240,000 and $251,000, with no commentary regarding cost-sharing. This estimate was consistent with the previous one received in December 2021, so administration determined no action was required at the time.
However, on March 30, 2023, the Town received an invoice over $85,000 higher than was previously estimated, totalling $345,798. When the Town followed up on the discrepancy with Public Safety, they were informed that the estimate communicated in February 2022 was based on a 70 per cent cost share. When Public Safety realized their error the extra cost was adjusted accordingly to reflect the fact that the Town is actually responsible for 100 per cent of RCMP policing costs.
Town administration offered two options for council to move forward on the matter. Option one was for council to pay back the amount owed under the extended payment schedule interest-free, or a second option to dispute the amount owed or delay payment to the federal government.
"I see no reason not to take an interest-free payment over a couple of years, if we agree with this option," said Beauchamp.
Coun. Jacen Abrey offered, "I would like to recommend we hold off on paying it until after the provincial election and then we can do some more lobbying on the 70-30 split."
Beauchamp noted, "(To Coun. Abrey's point) if you want to dispute it or fight it somehow, you could always get to the point where you pay up to that 70 per cent," and attempt to have further discussion with the hopes of formalizing the 70/30 per cent cost sharing with the federal government afterwards.
The option to pay back the 70 per cent ($260k) originally quoted, would leave over $85,000 outstanding. CAO Kalen Hastings said of the outstanding balance, "that to me meets the test of reasonability. We are acting on advice that they gave us. We prudently set this aside two fiscal years ago and then without rationale, responsibility or apology, they said 'oh sorry about that, it's $85,000 more than that'. I think that is a defensible position rather than just paying zero and getting into a tussle with the federal government given we have a few million dollars worth of grants in the queue."
Council passed a motion stating, "that council elect to pay the RCMP retro pay amount to the federal government in March 2025 pursuant to the extended payment schedule the federal government offered to municipalities to cover this outstanding expense." It was noted that this motion did not indicate the exact figure which would be repaid.
Council and administration reiterated their commitment to lobbying both the provincial and federal governments to be included in the 70/30 cost sharing agreement with the federal government. As it stands, Coaldale's requirement to pay an additional 30 per cent in policing costs amounts to over $450,000 each year.