Tourism expert says Coaldale has work to do to become premier destination, but is on its way
Posted on June 15, 2023 by Sunny South News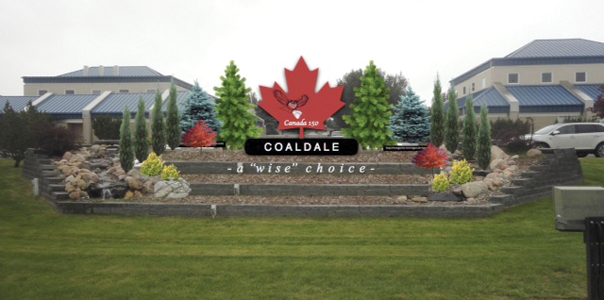 By Erika Mathieu
Sunny South News
Coaldale stakeholders, businesses, and municipal officials heard from one of North America's leading "destination" experts with ideas and feedback on how to propel Coaldale as the leading place to live, work, and play.
Roger Brooks has helped transform over 2,500 ordinary places into extraordinary destinations and has extensive experience in guiding municipalities on how to brand and market their town or city and develop themselves as a destination.
Brooks outlined that the specific wants of millennials are one of the greatest shifts that is taking place in Canadian history, and noted the demographic of people born between 1981 and 1996 are the largest generation in U.S. and Canadian history in addition to being the most diverse, civically-minded, and the most educated generation.
In terms of strategic destination planning, Brooks stressed, "it is really important to give millennials a seat at the table," and added attracting millennials is the key to attracting Gen-X and the Baby Boomer generations. For Canadian millennials in their 30s and early 40's, community safety, particularly for children ranked as the top concern, followed by education and childcare, recreation, affordability, health, engaging downtowns, cultural depth, jobs, and transportation.
Brooks said, "every single elected officials from the Prime Minister, to Premier, to your MLA and local leader's focus is to improve the quality of life for your citizens. To do this takes a tax base."
Brooks, who has over 40 years of experience in destination development, toured Coaldale and provided feedback on areas and ideas for initiatives which could help make Coaldale an even better place to live, work, and play. One of the main areas he noted a deficit was in signage for trails, businesses, amenities, and tourism destinations.
Although Coaldale installed gateway signage into the downtown area at the corner of Highway 3 and Highway 825 (20 St.), Brooks noted this gateway is not perpendicular to traffic on Highway 3. Brooks also noted that Highway 3 has signage for the Birds of Prey Foundation, Land O' Lakes golf course, and the Gem of the West Museum, but that Coaldale does not currently have any sort of vehicular way-finding system.
"Secondly my first impression of Coaldale isn't that great," and explained the visible industrial core and older buildings don't necessarily connote the charm of all the town actually has to offer. "Once you get a block off of the highway, it is a whole different story," but added there is not any way to indicate to visitors which way to go to get downtown."
"These (way-finding systems) are very important to have because it is going to educate people about what (Coaldale) has to offer, and how to get there," and said data shows that effective way-finding systems, (for retail for instance) result in quantifiable improvements for sales and services just by showing people where to go to find downtown.
Brooks also stressed the importance of refining Coaldale's downtown as a third space, a sort of "community living room," whereby people can just hang out without having to pay any sort of admission and in and of itself is an incentive for retailers and businesses to stay open and not roll up the Town's sidewalks after 6 p.m.
Brooks noted the importance of beautification and curb appeal and said the Town of Coaldale is doing a "great job," adding the hanging baskets and recently completed sidewalk project.
"I am sure there are people complaining that the streets are narrow. Downtowns are about people, not cars, not parking," he continued, "If someone says, 'if you take away the parking, it (will) kill my business' you ask, 'are you telling me your business isn't worth walking two blocks for?'"
"You already have tourism, and if you have to take them to Lethbridge to do stuff, that is not good, Brooks said.
"In terms of Birds of Prey, one thing you need to understand about that is that it is one of the best tourism attractions in all of western Canada, and I don't know that locals even give it that much credit (…) whatever they are doing out there, I hope as a town, you embrace it and support them however they need because that is a world class attraction."
Other ideas to improve Coaldale's downtown included improving upon curb appeal with things like outdoor merchandising, hand-picking and recruiting artisan retailers and non-franchise eateries to occupy more of the real estate on main-street, limiting chain businesses which fail to provide a unique experience to tourists, and installing blade signs, and really creating effective marketing.
Brooks added, "I think what you're doing is fantastic and you're on the right track."
"No (municipality) is ever done, and you can never rest on your laurels because there is always somebody else out to compete with you."