Community Newspapers recognized in province-wide competition
Posted on June 21, 2023 by Sunny South News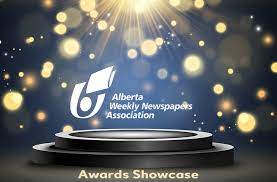 By Erika Mathieu
Sunny South News
The Sunny South News and The Taber Times have been named as finalists in the Alberta Weekly Newspaper Association's (AWNA) annual Better Newspaper Competition (BNC) Award for General Excellence.
The annual competition honours and recognizes excellence in Alberta Weekly newspaper publishing across a number of awards categories including general excellence, and individual achievements in editorial, advertising, and photography.
Awards for the BNC's General Excellence includes four categories which are based on the size of the community and the publication's circulation with categories for circulation under 1,100, 1,100-4,999, 5,000-9,999 and upwards of 10,500. In each of these groups, awards are then presented for General Excellence, Best Front Page, Best Editorial Page and Best Sports Page.
The Coaldale Sunny South News and The Taber Times have been named as two of the five finalists in Alberta for their 2022 submissions. Submissions for the 2022 BNC General Excellence entries were limited to one submission from March 2022, and one submission from September 2022.
Managing Editor for the Alberta Communities Group, Trevor Busch said the naming of two of the company's weekly publications is welcome validation, particularly as many community newspapers struggle with a decline in revenue.
"As we emerge from the economic impact of the pandemic and face the challenge of online giants like Facebook and Google monopolizing ad revenue in Canada, community newspapers are under threat like never before. Hardly a week goes by without fresh news of industry job cuts, or another historic newspaper throwing in the towel. While we cannot ignore these negative developments, focusing exclusively on the decline of the industry does nothing to breath new life into Canada's journalistic landscape. Here in rural southern Alberta, as evidenced by these award nominations from the AWNA, top notch local journalism is not a thing of the past and our reporters remain dedicated to bringing you the stories that matter, everything from local bake sales to federal elections."
The AWNA's over 95 members have a combined circulation of over 630,000 throughout Alberta and the Northwest Territories, and promotes excellance and awareness of the industry and its members.
In addition to the announcement of The Taber Times and The Sunny South News in General Exellence for their circulation categories, the BNC also announced former Southern Alberta Newspapers employee Cal Braid as a finalist for an Award of Excellence for his two-part feature, "Father's Day without dad," originally published in The Taber Times in June 2022.
"As we look to the future, you can rest assured we will strive to maintain a lasting relationship with all of our readers," continued Busch. "That being said, never believe that these community institutions will just 'always be there' whether you support them or not, and broadcast or other media will not be taking up that slack. If we want to prevent the slow drift toward a news desert in rural southern Alberta, help us celebrate the contributions of local journalists."
The winners of the BNC General Excellence award will be named during the 2023 AWNA annual general meeting in September.