Hockey action in the U.S.
Posted on January 27, 2015 by Sunny South News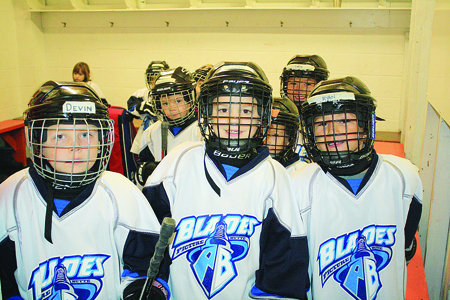 Kalispell, Montana Flathead Valley Mites Outdoor Classic Jamboree:
The Picture Butte Don Shimek UFA Initiation Blades started the Jamboree off on a Friday night under the lights of the outdoor ice playing Magrath. A recent Saturday morning game brought beautiful sunshine and two games for the Blades — one against the Lethbridge Dusty Crop Hoppers and the second against a novice team from Okotoks.
Jayden Quinn scored her first ever hockey career goal in the game against the Crop Hoppers on the Saturday.
At a recent Sunday morning game, it was delayed by an hour because of a heavy snow fall the night before.
With the help of over 30 volunteers armed with shovels, a tractor and the zamboni — the ice was able to be cleared so the Blades could play their last game of the Jamboree against the Dusty Crop Hoppers.
Despite the fact the Blades weren't able to secure a win throughout a recent weekend, the entire team had a fantastic weekend and played hard both on and off the ice.