Teams in the county hit the ice
Posted on February 10, 2015 by Sunny South News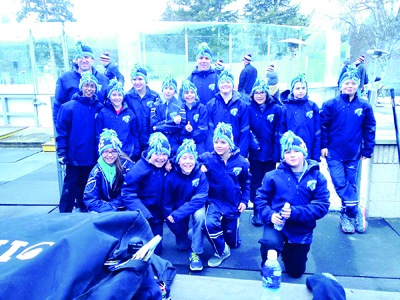 Only one game this past weekend, and it was a huge one — the Coaldale Copperheads beat the top north divisional team 5-3 at home.
The Snake Pit was packed with spectators cheering and waiting in anticipation for this match-up.
Craig Lyon scored two big goals. Riley Smith, Connor Gross and Alex Barthel received singles during the game.
Netminder for the evening Dillan Kelly stood his ground, stopping 29 shots from the Wranglers.
The Copperheads finished league play overall first in the south with a league record of 31-6-1; best season record ever in history.
This brings the team with a bye for the first round.
Therefore, fans are encouraged to watch the updated news feeds to see who and when the team will play for the second round — best of seven series.
The Copperheads are sitting in a prime position for playoffs. The official report is they are in healthy shape except for one major injury to a player at the beginning of the season.
Keep your eyes open for the second round to where the Snakes will obtain home advantage.
Cost for admission is adults $8 and youth $4. Season tickets are no longer valid.
Coaldale Cobras Initiation 1 had one game this weekend. Travelling to Lethbridge to take on the Jr. Pronghorns Tigers team.
Coaldale won the game 11-7. The team played with a lot of hard work and spirit.
Good goaltending, defense work and teamwork and great passing — the Cobras are starting the month off great.
The Cobras will hit the road for the rest of the month with tournaments in Redcliff, Raymond and finishing off the month with a home tournament Feb. 27-28 and March 1.
The Wilbur Ellis Picture Butte Peewee Blades have had two busy weekends.
Last weekend, the team travelled to Kalispell, MN. to play in their outdoor tournament.
They played four games against teams from B.C. and Alberta. They won their game against a team from Castlegar but came up short in the next three games.
The tournament highlights were the great weather and the Sugar Shootout at the end of each game. They also loved the cool toques one of the parents made for them.
This weekend the team travelled to Raymond and Magrath for games. They managed two goals but came up short against Raymond.
Caden Heins got the goals with an assist from Jesse Heins.
The game against Magrath the next evening was a barn burner until the third period collapse, when the team was up 4-3 after the second.
Jesse Heins was working hard in net but the team just couldn't hold onto the lead and Magrath came back to win 9-7.
Goals were scored by Caden Heins (4), Riley McCloud, Will Neudorf, and Sebastian Liska. Helping out with asssists from Liska, Anthony Mack, and McCloud.