Coaldale Copperheads take a bite out of the competition
Posted on March 10, 2015 by Sunny South News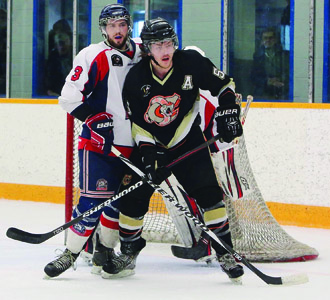 It was a successful weekend in the HJHL semi-finals, as the Coaldale Copperheads secured another two wins.
Friday night on the road to Okotoks the team out- played the Bisons winning game two of the series 5-2.
Austin Huculack, Calvin Swanson, Colby Murray, Alex Barthel and Marc Eremenko each had singles with the win.
Sunday night the Bisons returned to the Snake Pit in Coaldale, which is always a challenge with the packed crowd amongst them.
It was a tighter, more evenly matched game but the Snakes still bit the Bisons with a 4-2 finish.
It was the turning point in the game, while being short-handed on two goals — that Craig Lyon and Connor Gross stole the show pulling ahead in the game, with Gross scoring two.
Singles also came off the hands of Dustin Houghton and Calvin Swanson — both beauty goals. Dillan Kelly was exceptional in both games in net this weekend. It was a vibrating and excited crowd when the weekend closed, as this now brings the series 3-0 for the Snakes.
Tuesday will be game four in Okotoks at 8 p.m. to see if the Copperheads can close the south series.
If the Copperheads win this series they will win the south final banner, a first ever for the organization, plus the team will get to participate in provincials, which are held the first weekend in Stony Plain.
If game five is needed, it will be held in Coaldale tomorrow night at 8:30 p.m.