Hockey action in the county
Posted on March 25, 2015 by Sunny South News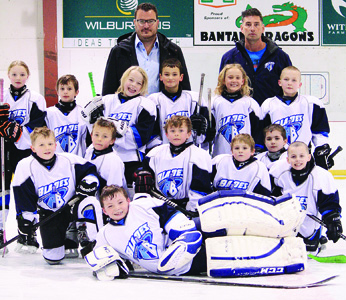 The Picture Butte Initiation #1 Blades finished off their hockey season with a game against the Picture Butte Initiation #2 team on Mar. 14. The teams were very evenly matched and played to a 7-7 tie game, with a fun shoot-out to end it off.
It was a great season for the Don Shimek UFA Initiation #1 Blades, with all the kids improving over the course of the year and having fun playing hockey and making new friends.
The Picture Butte Elks Novice Blades brought their season to a close in front of a packed arena in Picture Butte on Mar. 10 in game two of the playoff semi-finals against the Taber #1 Oil Kings.
The Blades came out on fire with Evan McLeod scoring the first goal for the Blades, only a minute and a half into the game.
It was a close fought game with Riley Hillaby scoring three goals, Carson Konynenbelt scoring one and Cameron Hillaby scoring one. Braxton Hanna, Luka Rudelich, Leeland Fraser, Addisyn Currie, Cameron Hillaby and Connor O'Donnell all had assists.
In the end, the game finished in a 6-6 tie, which due to the loss of game 1 to Taber allowed the Oil Kings to continue on to the final round of playoffs. Despite the game signaling the end of the Blades' season, there were nothing but smiling faces on the ice after the game.
The Blades played their hearts out and were just happy to give the Oil Kings a run for their money.
Keep your PVRs tuned to "Hockey Night In Canada" on Mar. 29 when local hockey fans can see the Picture Butte Elks Novice Blades featured as one of three southern Alberta teams chosen to appear on Ron MacLean's "Hometown Hockey."
The team gets exclusive access to a number of activities and will have the opportunity to meet Ron MacLean and other NHL celebrities.