Hernandez off to compete in Toronto Pan-Am Games
Posted on July 7, 2015 by Sunny South News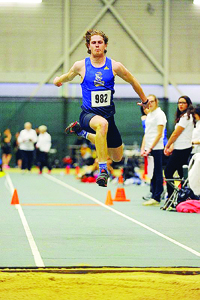 By Stan Ashbee
Sunny South News
Triple-Jump is Aaron Hernandez's track and field event of choice. This month, Coaldale's Hernandez is heading to Toronto, ON to compete in the Pan-American Games, being held July 10-26 — a career highlight of the southern Alberta track star.
"For me, the big part of it, was just making the Games and making my first Canadian team," Hernandez pointed out.
It was about two years ago, Hernandez said, he just missed out on competing in the Pan-Am Juniors and last year he added he just missed out on competing in the World Juniors. "My third year doing track, I've finally locked up a Team Canada spot, which was the big thing for me. Now, I just have to go there and hopefully compete well there," he said.
Hernandez added he's not expecting to medal but it will be an opportunity to prove to himself he can compete with some of the best athletes in the world. The Canadian Athletics Team, Hernandez believes, named a record-breaking 89 to the team. "That's mainly in part because of us hosting the Pan-American Games. We wanted to take a big team and because we're hosting we're able to do that," said Hernandez.
Making it on the Canadian team for Hernandez took a lot of work and criteria had to be met. "The criteria this year was to finish the top two in the nation at the end of the qualification dates. Coming off of Nationals in the indoor season, we flew straight out to Arizona to open my outdoor season, competing at ASU — that's when I opened with the pretty big mark and that mark was able to take me through the qualification period and found myself a spot on the team," said the athlete. Hernandez said he will be competing in other events this summer but competing at the Pan-Am Games is one his most noteworthy accomplishments to date. "This will definitely be the highlight of the summer. Pretty much, the highlight of my career, so far. This is pretty massive in the sport of track and field — this is one of the big ones," said Hernandez.
This summer may still feature a few more meets after his return from Toronto to close out his season.
Hernandez wants to thank all the people supporting the local athlete.