Dance Images ready to get their fall groove on
Posted on August 25, 2015 by Sunny South News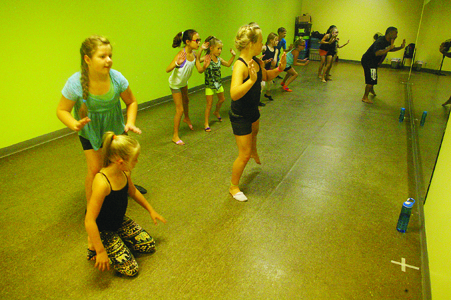 By Stan Ashbee
Sunny South News
Coaldale's Dance Images was recently visited by a group of four dancers from Vancouver for an annual three-day summer dance workshop — the workshops went from morning until afternoon last Monday-Wednesday.
Hip hop, jazz, contemporary, lyrical, musical theatre, Bollywood and basics to breakdancing were on tap for this year's featured dance workshops, according to owner/instructor Gerry Unger.
"We do it every year — every summer. Mostly, it is our students but we do have a few people that will travel and come and take classes. For some reason, a lot of studios this year have decided to do theirs the same week of ours," said Unger, adding between 50-60 participants took part in this year's three days dedicated to dance.
This Wednesday and Thursday dancers from ages 3 to adult can register in competitive and non-competitive programs at Dance Images in Coaldale from 12-7 p.m. and on Friday in Taber from 12-6 p.m. at 5224 48 Avenue.
Call 403-345-2282 for more information or visit online at http://www.danceimages.ca.
Beginner and advanced classes are offered in ballet, jazz, tap, lyrical, contemporary, hip hop, musical theatre, acro and yoga. "We start Sept. 14," she added. "This will be our 24th year in business."
Unger said Dance Images just opened in Taber last year. "It's only our second year out there. It's going good. I'm hoping our numbers will grow and people will know us. We're actually performing at Cornfest after the opening ceremonies on Aug. 28. That will be fun for the kids," said Unger.