Coach honoured
Posted on September 15, 2015 by Sunny South News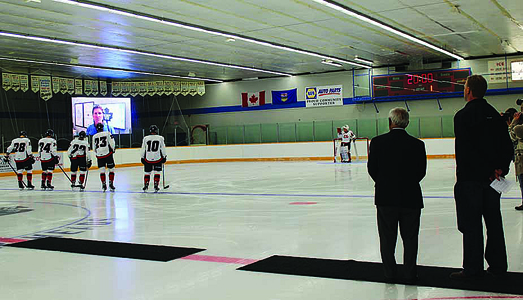 Coaldale Minor Hockey is pleased to announce the beginning of a new initiative to honour players, coaches and builders of the past.
The first-time recipient of the "Tradition of Excellence" honour is long-time coach, mentor and innovator Yutaka "Yutie" Urano.
Yutie began coaching in Coaldale in 1974 and coached in the association until 1992 at various levels including pee wee, bantam, midget, juvenile and junior C levels.
Yutie had a way of teaching skills and viewing the game, many at the time, considered unorthodox but as many of his past players now attest helped them advance to the next level of the game.
Both of Coaldale's most recent NHL alumni Stacey Roest and Kyle McLaren both played on his teams.
One of his favourite phrases was, "It is easy to correct mistakes, but not laziness."
Yutie had several people that helped support him locally such as Ivan Boras and Dale Fujita, while others helped grow and shape his knowledge of the game including Bob Bartlett, former Bronco coach John Chapman and U of L Pronghorn hockey staff Doug McLeod, Dave Adolph and Mike Babcock.
Yutie also spent many hours with U of A coaching legend Claire Drake and later his successor Billy Moores exchanging ideas and talking hockey. The 1994 CIAU Championship team he was an assistant coach with was inducted into the Alberta Hockey Hall of Fame in 2012.
Recently, Yutie has been back at the rink mentoring several coaches that used to play for him in Coaldale and he still emphasizes the same values of "hard work and team first," which he feels helps young players, not just in hockey, but equips them for success in business or other pursuits long after their playing days are over.
Most importantly, Yutie is most thankful to his wife Pat of almost 50 years for allowing him time to pursue his passion and for the job she did raising their four children Leanne, Tammy, Kelly and Darryl.