County hockey action
Posted on October 27, 2015 by Sunny South News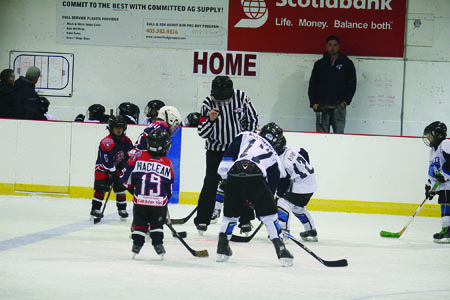 Novice Cobra CAHL team continued with the tiering round Sunday Morning with a home game against Duchess. The Cobras shutout Duchess 8 – 0. Hat tricks this game went to #6 Neil Price and #3 Kobe Urasaki. Other Cobra went to #13 Layne Kyle and #7 Ryland Bailie. Great job on all that had assists in this game.
Picture Butte Jim Juris Knights of Columbus Initiation 2 got their season off to a flying start against Taber 2 this past weekend. The game was one to remember for Isaac Medina, Berkley Schooten and Bridget Gellrich — they all scored their first career goal. Colton VanRootselaar added one for the team. The crowd had trouble holding onto their hats as Bridget Gellrich, Walker Schooten, Gracen Schooten, Liam Slomp and Max Okubo all scored hat tricks.
The Picture Butte Pee wee Blades took to the ice for two games this past weekend. The first was against Pincher Creek. The game ended in a 9-9 tie. The team took to the road for the second game. The Blades kept it very close after the second but ended up loosing 12-7 to the Irvine Bulldogs.
The Picture Butte Atom Blades hosted the Lethbridge Jackalopes on Friday night for an exhibition game. The game was a little lopsided in favour of the Blades who skated to a 14-1 victory. Riley Hillaby scored six goals, while Cameron Hillaby scored four goals. Karsen Haney added one goal and Addisyn Currie scored one goal. Aspen Tresierra scored one goal. Kyle Harrington added a huge goal for the Blades, his first ever career goal. Sunday morning's game was another exhibition match-up against the Lethbridge Atom City Lightning. The Blades had a bit more competition this time out and had to battle for their 12-8 victory. Cameron Hillaby scored seven goals for the Blades. Karsen Haney scored three goals and Evan McLeod and Addisyn Currie had one goal each. The Atom Blades are back on the ice on Halloween morning facing off against Irvine.
Coaldale Copperheads
Halloween night at 8:30 p.m. at the Snake Pit the Copperheads are excited to host a home game against Three Hills.
The team, currently sitting at just above .500 (6-5), is hoping for a spooktacular game, which is much needed. Although they have been providing exciting hockey, with the last five games winning two in shoot outs and two in over time.
It has been a challenging start to the defending league champions with three key offensive players battling injuries.
Past Saturday night at home the Snakes lost 4-1 against Red Deer Vipers minus those players still.
Thursday night the team travels to Medicine Hat plus back at home Halloween night against Ponoka.
It's looking very promising for the complete lineup to be present for fans to witness after eleven games into the season. The team recently acquired two more additions, which seen the ice for two games this weekend past.
Coming from the Portage Terriers Junior A team, a Lacombe native, is Ryan Swier. Fort Macleod's Sheh Gallamore is another welcomed addition to the Snakes roster.