It's a great skate
Posted on November 3, 2015 by Sunny South News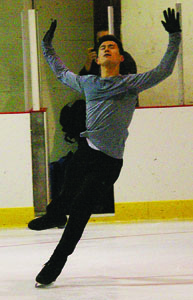 By Stan Ashbee
Sunny South News
It was a young figure skater's dream, as Picture Butte's North County Recreation Complex played host to a few of the biggest names in Canadian figure skating including Patrick Chan. Chan, a three-time world champion and two-time Olympic silver medallist, was in Picture Butte last Wednesday night for a practice prior to his appearance at Skate Canada International, which was held over the weekend at Enmax Centre in Lethbridge. Other top-notch members of Team Canada figure skaters were in Picture Butte, as members of the North County Figure Skating Club had a chance to watch some of the finest Canadian figure skaters in action on their hometown ice including ice dance partners Kaitlyn Weaver and Andrew Poje, world bronze medallists, as well as pairs partners Kirsten Moore-Towers and Michael Marinaro.
Over the weekend, many of the world's biggest skaters visited Lethbridge, which celebrated a silver anniversary with Skate Canada in 2015.
Lethbridge held the same event in 1990, according to the official Skate Canada website. Skaters from Japan, Russia, the U.S. and from other parts of the world came to southern Alberta to compete in categories including ice dance, ladies, men and pair programs. Even TSN and CTV were on hand to cover the highly-anticipated event.
At the impromptu practice in Picture Butte last week, Skate Canada's High Performance Director Mike Slipchuk said with skaters arriving early into southern Alberta for the competition, they were eager to hit the ice.
"Just with the travel in, we had some athletes that arrived earlier. A few of them wanted to get on the ice a bit before practices. We contacted a few of our contacts in this area to see what ice we could come up with and Picture Butte offered us some ice to come down and do it. We gladly accepted and it gave us a chance for athletes to come down and get a couple hours of ice in a travel day," said Slipchuk, last Wednesday evening.
"We go into Skate Canada with our strongest team. The skaters we have here are the best — our top Canadians."
For the lucky Picture Butte residents at the practice, it was a once-in-a-lifetime opportunity to see world pair champions Eric Radford and Meagan Duhamel, Chan, Weaver and Poje and other skaters on Picture Butte ice training. "It's kind of cool," he said.
Slipchuk, a former Canadian competitive figure skater, noted this past weekend there was a strong team of 18 skaters competing at the Skate Canada International event.