Hockey action in the county
Posted on January 26, 2016 by Sunny South News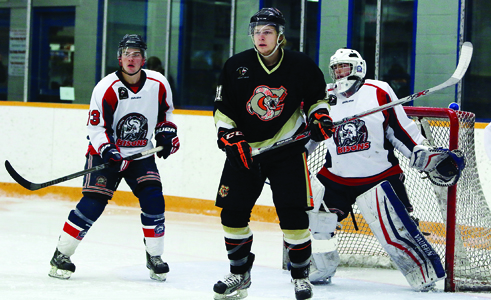 Coaldale Copperheads have come alive in the final league stretch. The team is currently on a six-game winning streak, following back to back wins on the past weekend.
Saturday night the Snakes faced the top north division team Mountain View. It was one of the highlight games of the season, taking a 7-4 victory, while visiting Didsbury. The team is ready to make the big push once again and looking stronger every game. The Copperheads added three players to the lineup since Christmas break, which has been key to their success.
Goal scorers during the game were Craig Lyon, Connor Gross, Ryan Swier, James Price, Clay Spencer, Calvin Swanson and Matt Johnson. Dillan Kelly was between the pipes, with a tremendous strong game saving 31 of 35 shots.
Sunday the team travelled onto Stettler winning 9-3 — earning the four needed points the Snakes strived for.
With current stats of 24-9-1, the team is battling for the south placing. Okotoks sits with one point more and Cochrane with five ahead to date. Copperheads and Cochrane have to meet each other twice yet in the season.
Connor Gross and Austin Huculak each scored doubles on Sunday, while singles from Jonathan Zdan, Dustin Houghton, Clay Spencer, Ty Mackenzie and Craig Lyon. Dylan Swanson was sharp in net saving 23 out of 26 shots.
The first pair up with Cochrane is Jan. 30 at 8:30 p.m. in Coaldale. Not only will this be an important south division game but it is the final home league game for the Snakes. Fans and sponsors are encouraged and reminded this will be the last chance to use game tickets. During playoffs the price of admission will be Adults $8 and Youth $4 at the booth only.
Saturday night will also be Fan Appreciation Night. A small ceremony will take place prior to the game honouring the overage four players from the Copperheads team.
The Picture Butte Witdouck Farms Midget Blades played a league game on Friday night in Bow Island, where the team skated to a 2-2 tie. Nash Ober faced 34 shots in goal.
On Sunday, the Blades travelled to Red Cliff and won 11-3. Points from the weekend were earned by Jared McCloud with five, CJ Currie with four, Kolten Heins with three, two points contributed by Landon Veluw, Russell Woodward, Kyle Davies, Jared Witdouck, Jazz Wiebe and singles from Tristan Heins, Zach Liska, Markus Renning, Jackson Liska, Kaiden Middleton and Jesse Shoemaker. Reed Graham had the win in net facing 43 shots.
The Midgets host their first provincial round tonight at 5:30 p.m. against Fort Macleod.