Copperheads head to league South Division final
Posted on March 1, 2016 by Sunny South News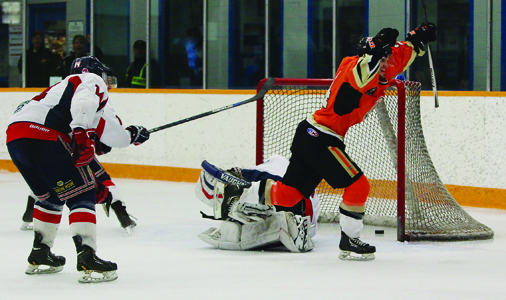 The Coaldale Copperheads advanced to the South Division final on home ice Saturday night. The best of seven semi-final was clinched in six games before a near sell-out home crowd.
In game four in Coaldale last Wednesday, the Snakes lost 7-6. Game five was a 7-6 overtime win in Okotoks Friday evening earning the Copperheads a 3-2 series lead. Saturday night was a more defensive battle, as Copperheads were 2-1 after the first period on goals by Dillan Houghton and Austin Huculak on the power play. The Bisons managed to tie it up in the second period.
Brady Parenteau scored late in the third to take the 3-2 lead and an open net goal by Clay Spencer sealed the series. Shots on net were 35-33 in favour of the Copperheads with local product Dillan Kelly between the pipes playing a stellar game.
Coaldale moves on to the South Division final facing the Cochrane Generals, who finished first overall in the HJHL in regular season league play.
Coaldale tangled with the Generals four times — winning one, losing once in overtime and losing twice in regulation time.
Game one and two will be held in Cochrane, commencing tonight at 8 p.m. and Mar. 4 at 7:30 p.m. Coaldale hosts the Generals for game three Mar. 5 at 8:30 p.m. Game four is Mar. 9 at 8:30 p.m.
The South Division champions will go on to face the winners between Airdrie Thunder and the Mountain View Colts for the Heritage League Championship in final round.
The defending league champion Copperheads are searching for a repeat ending.