Opening Day for golf at the Picture Butte Golf Club
Posted on March 15, 2016 by Sunny South News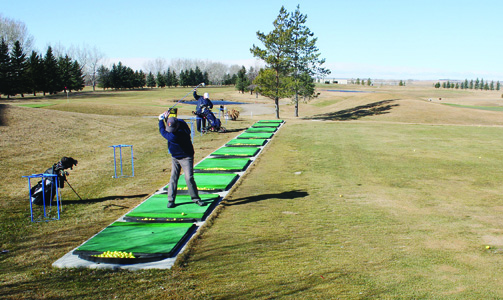 SSN file photo
By Stan Ashbee
Sunny South News
Golf enthusiasts waiting to hit the links from an unusually warmer winter headed to the Picture Butte Golf Club last Thursday morning, as the golf club officially opened for the season.
"Opening Day is always exciting. It's nice to get going early again," said Dean Sklarenko, PGA of Canada Executive Professional at the golf club.
Over the last couple of years, he added, the course has been officially opened around the middle of March.
"We always target for Apr. 1. If we can any day before that, it's always a bonus," he noted.
First tee time on opening day was scheduled at 8:30 a.m. "However, we had golfers out there before 8 a.m. They couldn't wait for it," he joked, adding there must have been close to 60 golfers out and about in the early hours of Mar. 10 to take advantage of the course being open to the public.
This season, said Sklarenko, the club is pleased to announce Jamie Gerlitz as the new Club Head Professional. "We're making some changes in our professional services," he said.
Having a new pro, gives the club more opportunities to service the club's membership and guests.
"It alleviates my position a little bit away from the golf shop and I can concentrate more on the membership and the food and beverage services. And, try to attract some more revenue through tournament options and corporate features," Sklarenko said.
According to Sklarenko, the club has had a few renovations in the clubhouse and he said the club is pleased how the renos have come along so far. "A few more additions will be coming," he added.
The golf course has turned out in fantastic shape, as always, according to Sklarenko.
As for tournaments this season at the golf course, the first tournament scheduled is the Ladies Scramble May 28. "Which is always a popular event."
And, the golf club's ever popular Men's Scramble is being held June 4-5. "We're proud to have the largest scramble in southern Alberta," he said.
With the golf club opening in the middle of March, Sklarenko said it feels good to get up and going again. "And see some familiar faces."
Early this season, the golf course's first tee time is 8:30 a.m. and it will be open until near dark. "As long as Mother Nature co-operates, we'll be here and ready to go."
The hours will extend throughout the summer, as daylight is longer and it is warmer in the mornings.
"We'll obviously start earlier and as we get into May our league play starts, which brings people here a little bit later in the night," he said.