Fishing fun in Picture Butte
Posted on May 17, 2016 by Sunny South News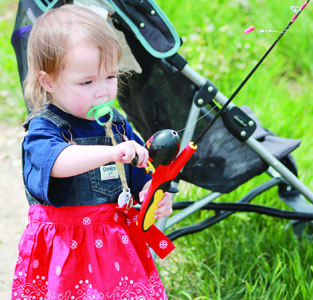 By Stan Ashbee
Sunny South News
Anglers, young and old, get your rod, reel and hooks on for the 9th Annual Eddy Stroeve Memorial Fishing Derby June 4 at the Picture Butte Reservoir and Fish and Game Building. Sponsored by Picture Butte Fish and Game.
Aubrey Fletcher from Picture Butte Fish and Game said in the last four years, the derby has had great success.
"We went from 36 four years ago to 97 last year. Every year it's got bigger and bigger and the kids are just loving it," Fletcher noted.
The derby registration fee for youth and adults is $5 per person, which also includes a hamburger or hotdog, a donut, a chocolate bar and a pop. Adults are required to have a valid fishing licence. Registration and concession between 12-1 p.m. Fishing 1-3 p.m. Awards at 3:30 p.m. The derby is catch and release. The first 20 fish caught by kids under 14 years old win a prize, which is a fishing rod. There are also prizes for the five biggest fish.
The first derby, according to Leeon Hage from Picture Butte Fish and Game was held in 2004.
"We had four derbies and then Eddy passed away July 6, 2007. That's when we renamed the derby," he noted, so that actually makes it the 13th annual fishing derby.
Historically speaking, the biggest fish ever caught was 27-and-a-quarter inches in 2011.
"The second biggest fish was caught by Eddy's daughter Taylor in 2013 and that was 26.5 inches."
Last year, Kolten Heins had the biggest fish at 22.5 inches and he was the Eddy Stroeve Memorial trophy winner. There was a total of 14 fish caught — 10 by youth and four by adults.
Hage said the biggest derby ever held was in 2006 with 104 participants. And, in 2013, the derby's top three fish were caught by girls.
Hage noted the reason the fishing derby is held is to get kids out on the bank of the reservoir fishing. Fletcher added trying to get kids out in nature is important.
"Instead of cellphones, social media and stuff like that. They're out in nature doing things. That's the purpose of our club. We do archery for kids, we do air rifles and pellet shoots. We have camps for kids and fishing derbies. Our fish and game club is trying to get kids back in nature," Fletcher said.
For more info about the derby contact Fletcher at 403-732-4865 or Hage at 403-732-4563.