Hernandez off to Halifax: Triple-jump aspirations
Posted on June 21, 2016 by Sunny South News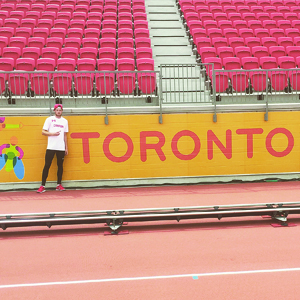 By Stan Ashbee
Sunny South News
Local track and field enthusiast and award-winner Aaron Hernandez has been invited to Halifax to take part in a premiere triple-jump meet at Dalhousie University this week — it's the Aileen Meagher Triple Jump.
"Apparently, it's the first one they've had in a long time," said Aaron's proud mom, Nancy.
Training-wise, Nancy noted, he's been doing a lot. Aaron competed at a meet this past weekend in Calgary and he will be competing in Edmonton for the Nationals, with aspirations to qualify for the Olympics in July.
Nancy said she's excited to see her son head east to compete in his chosen track and field event. "He really wanted to go. They're paying for him to go, an all-expense paid trip," she explained.
Top jumpers, Nancy added, are selected to attend the prestigious sporting event. "It's not just sort of anybody that's been jumping," she said.