Copperheads back on the ice
Posted on September 20, 2016 by Sunny South News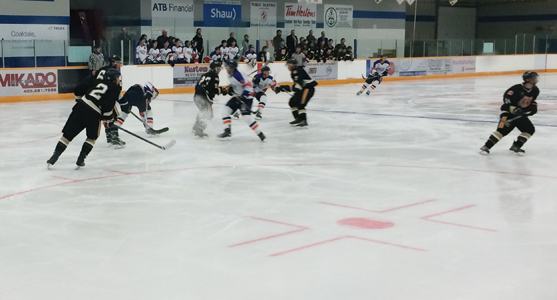 Coaldale Copperheads
Coaldale Copperheads collected six out of six points this past opening weekend.
An excellent showcase of talent of over fifty bodies at training camp gave the Snakes options for final roster selection.Those who watched this opening weekend can see it's going to be another strong, fast and experienced team.
Friday night, the team started off in Okotoks scoring four unanswered goals and beat the Bisons 4-2. Four returning players all scored the first goals of the season — Clay Vogt, Brady Parenteau, Dustin Houghton and Mackenzie Karl.
Saturday night marked the organization's 10-year anniversary milestone with their home opener game against High River. Isiah Day Chief (1-3) and Clay Spencer (2-2) had big nights, combining for eight points, as they won their second straight game 8-1.
Singles came from Austin Holmes, Mackenzie Karl, Austyn Moser, Brendon Benson, and Matt Krusky. Goaltender for the Copperheads for the two games was local product Dillan Kelly.
Sunday, the team travelled to Banff to match up against the Bears.
Final score was 8-3 ending an excellent opening weekend securing six points in league. Dylan Swanson had his first opportunity to play his role in net for the season facing 17 shots. Copperheads were very offensive on the Bears road trip taking 60 shots. The first hat trick of the year goes to Calvin Swanson. Singles from players Ryan Swier, Levi Anderson, Austin Huculak, Austyn Moser, and Matt Krusky.
Copperheads are back home this Saturday at 8:30 p.m.
The team is still collecting sponsorship to help fund the team for the season. If you can contribute or would like more information please visit coaldalecopperheads.com.