Ice action in Picture Butte
Posted on October 25, 2016 by Sunny South News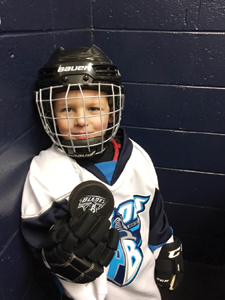 Ice action
The Initiation Picture Butte Blades/Jimmy's Mighty Knights fell 14-7 in an opening game held recently against the Taber Oil Kings.
Jesse Klingenberg was the first to score for the Blades. He added two more later in the game, for his first hat trick of the season.
Kale Okubo also opened the season with a hat trick, and Jack Groenenboom put one in the net in his debut game.
Liam Campmans marked his first point with an assist.
Sage Campmans, Matthew Van Zeggelaar, and newcomer Jersey Johnson defended the team in net.
Blades tie game
The Initiation Butte Blades/Jimmy's Mighty Knights were in Raymond Saturday morning for their first away game. Butte was strong in the first half with goals from Jesse Klingenberg (3), Kale Okubo (3), and Matthew VanZeggelaar (1).
Raymond answered back with four goals. Raymond scored another four in the second half to take the lead. In a nail biting finish, Mathew VanZeggelaar scored a buzzer beater to tie the game at 8-8. Hats off to goalies Jaxon Kraemer and Jude Klingenberg. Next action is Saturday at home against Magrath.