Youth curling takes to the ice — Erin Collett awarded this year's curling scholarship
Posted on November 1, 2016 by Sunny South News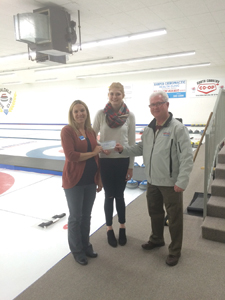 By Stan Ashbee
Sunny South News
Erin Collett was awarded the Canadian Masters/ATB Financial Curling and School Scholarship in Coaldale last week. Collett attends the University of Lethbridge, graduated from LCI and has been involved with the LCI Curling Club and a recreational team in the city. She has also participated in bonspiels in Taber, Vauxhall, and Lethbridge.
"I'm sad I didn't get involved with curling earlier but I am very excited to continue playing for years to come. I love it," she stated in her application for the scholarship.
Roger Hohm, one of the organizers of the Canadian Masters held in Coaldale and a town councillor, said the scholarship was set up after the curling event was held in 2014.
"Some of the profits from that we took and put it into a scholarship fund in support of juniors who are curling or high school students that are curling and that volunteer around their community and other things and are going to go onto post-secondary school. We thought, what a great way to use some of those profits, rather than just putting it straight back into the curling club — let's put it into our youth that are maybe going to grow the curling club into the future," Hohm explained.
According to Hohm, there is a selection process for the scholarship. "We send out applications and usually ask for them to be back into us by August. We review them between ATB Financial and people from the curling club that were on the committee — do the review process and then we wait for the student to enrol into university or college and then we award that scholarship," he noted.
Collett said this is her third year curling. "I'm still kind of new to it," she said.
This year, she said, she is curling at the U of L, with their recreational curling team. Currently, the scholarship winner is taking general studies but she is working towards and English major and she is going into the education program.
Collett fell in love with the sport of curling because it's competitive but a friendly competition.
"I used to play basketball. I find I like the people in curling better. Everyone is more friendly. The sport is fun," she added.
At LCI, Collett explained, she was on the AKA group, which is doing a lot of volunteer work.
"I helped raise donations and necessities of life for the immigrants that came to Canada — the Syrian refugees. At Christmas time, the 12 Days of Giving, which is something I've just done. It's 12 days of volunteer work, whatever that may be. Last year, I donated clothing to the Syrian refugees, I donated food to the food bank, I went to a seniors home — just stuff like that," she said, adding she also did volunteer work with Big Brothers and Big Sisters last year.