Copperheads sweep the Hat in best of three series
Posted on February 14, 2017 by Sunny South News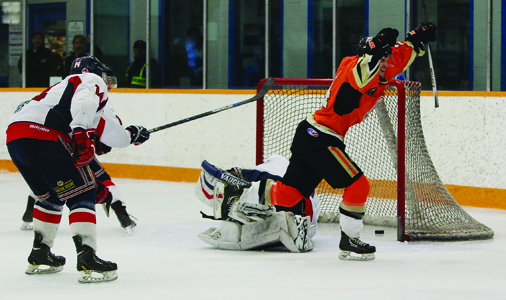 A Coaldale Copperheads game from hockey past.
Coaldale Copperheads
Coaldale Copperheads' first round of the HJHL playoffs saw the Snakes sweep the Medicine Hat Cubs in a best of three series. The series opened in Medicine Hat this past Thursday night. The Copperheads came out guns-a-blazing, as the team scored five unanswered goals in the first period, with an eventual 6-2 victory.
Clay Spencer paced the Copperheads with two, with singles from Brendon Benson, Brady Parenteau, Matt Krusky and Mackenzie Karl.
Games two and three (if needed ) were scheduled in Coaldale for Saturday and Sunday, but Saturday's game gave the Copperheads the decisive series win, as the team romped over the Cubs 9-1.
Rookie Levi Anderson of Pincher Creek put in a strong performance with two goals and two assists. Calvin Swanson put two by the Hat, with Benson, Parentau, Krusky, Matt Nadeau and Graham Dugdale rounding out the scoring. Dillan Kelly tended the net in both Copperhead wins. The win gives the Snakes a berth in the south semi-finals, as the team gets set to take on the Okotoks Bisons in a best of seven series. The Copperheads were only three points behind the second place Bisons at the end of the regular season, so players and fans alike are looking forward to what should be a very close series.
Game one will commence in Okotoks this Thursday at 8:15 p.m. at the Murray Arena. Game two will be held at the Snake Pit Saturday at 8:30 p.m.
On Sunday, the team will back in Okotoks for a 1:15 p.m. game.
According to the Copperheads, the remaining series games are to be finalized and announced shortly.