Copperheads advance to South Finals
Posted on March 1, 2017 by Sunny South News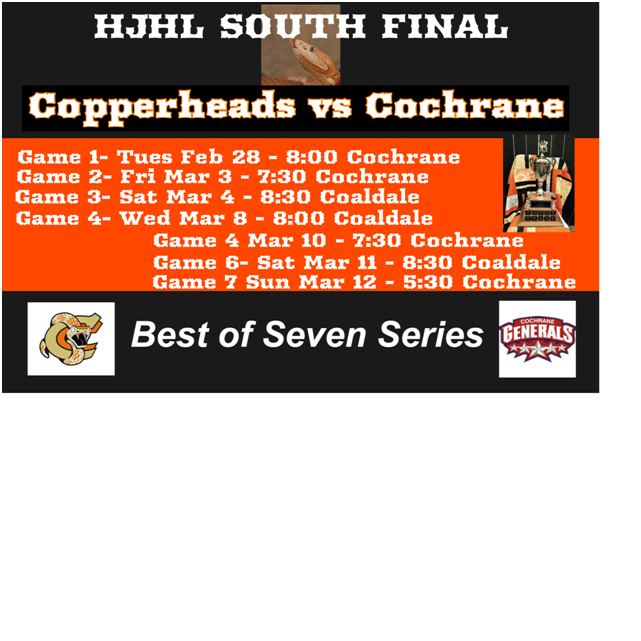 The Coaldale Copperheads advanced to the South Division final for the fourth time in their 10-year history. This year's playoffs have been by far the most dramatic, as the Copperheads came from behind a 3-0 deficit in the seven-game semi- final, winning four straight. Three overtime games puncuated the first four games of the series, with the Copperheads winning in overtime in game four at home, and never looking back. The Snakes kept gaining momentum, despite numerous injuries to sustain the "reverse sweep," which is almost unheard of. Stellar goaltending from starter Dillon Kelly was instrumental in the series, reminding fans of the league about the title won two seasons ago with Kelly between the pipes.
Second win of the series was a 5-4 overtime win in Coaldale last Tuesday, followed by a great road effort in Okotoks last Friday evening to an eventual 5-2 road victory. It was back to the friendly confines of the Coaldale "Snake Pit" this past Saturday night, where hometown fans filled the rink to capacity, which spurred the Copperheads to a decisive 5-1 victory to tie the series at 3-3.
No rest for the team with a game this past Sunday in Okotoks for game seven and the game was tied 2-2 after one period. Coaldale scored late in the second to make it 3-2. A strong third period for the Coaldale crew saw the Snakes jump up to a 6-3 lead with and eventual 6-4 finish with a late Okotoks goal. In the final four victory games the following Copperheads scored: Levi Anderson and Calvin Swanson secured three goals each; Logan McKay, Jayden Smith, Brendan Benson and Ryan Swier two goals; singles from Austin Huculak, Tyler Ansderson, Sam Paskuski, and Graham Dugdale.
The match-up in the final, a seven-game series, will be against the Cochrane Generals, who were number one in the HJHL (33-4-1) in regular season. Cochrane had a bye the first round of playoffs and easily beat Banff four straight to advance to the division final in the semi-finals. The first two games of the division series will be played in Cochrane tonight and this Friday with times TBA. This Saturday, will be the first home game for the Snakes at 8:30 p.m. Remaining games will be announced as completed.
Ticket prices for the Division Final will be $7 for adults and $4 for youth.