Coaldale figure skating celebrates Canada's 150
Posted on March 7, 2017 by Sunny South News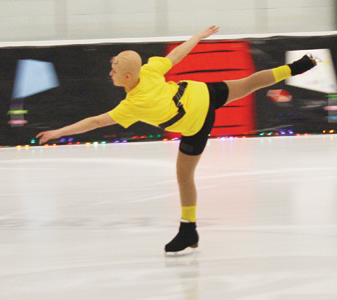 By Stan Ashbee
Sunny South News
On Mar. 16, the Coaldale Figure Skating Club celebrates "Canada 150" at the Coaldale Arena.
"All the music this year is Canadian-based — all Canadian artists. All the groups and numbers that will be performed are all Canadian themed," said Megan Curtis, president of the club, adding performances include paying homage to beavers, explorers and fishing in the Atlantic provinces.
"Trying to cover the country from coast to coast," she added.
Coaches from the club, Curtis explained, asked the board of directors if the board had any ideas for a carnival theme.
"The first thing that came to my mind was Canada 150, as it is a major milestone for the nation. I just figured there was a lot of other activities going on in the community and throughout the country celebrating the anniversary. We figured it was a timely theme," she said.
According to Curtis, the club's season started at the beginning of October 2016 and the season typically finishes up the week after the annual carnival.
This year's carnival features the Lethbridge Intermediate Ice Angels, a synchronized skating team, as guest skaters. Curtis noted the club had 70 registered skaters aged 3 to 19 this past season.
Last year, the club's carnival had a great turn out, Curtis said. "In years past, we have had great turn outs. Obviously, families come to support their skaters, but there are community members that come to. They want to see the skating and they like the show," she said.
Curtis pointed out the majority of the club's programming is CanSkate and it is a learn to skate program.
"We do teach all the fundamentals of skating. The idea behind CanSkate is it's a feeder program to pretty much any ice sport. We build the skills for kids to go into hockey, into ringette, and into speed skating," she said.
If a skater has a keen interest in learning the art of figure skating, then they can move onto other sports, she said. "To the next level, which focuses on different skills and elements," she said, which allows skaters to progress in that sport.
Show starts at 6:30 p.m. Tickets for a family of four $20, adults $7, seniors and children $5 and children five and under free.