Skating Through the Years
Posted on March 7, 2017 by Sunny South News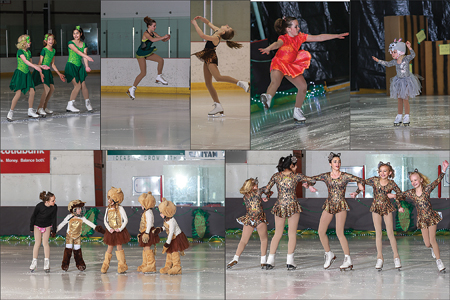 By Stan Ashbee
Sunny South News
According to Jolene Van Reeuwyk, "Skating Through the Years" is the North County Figure Skating Club's carnival theme this year. The carnival is being held Mar. 18 at 1 p.m. at the North County Recreation Complex or the Picture Butte Arena. Van Reeuwyk is the club's president and has been for the past four years.
"Our coaches choose our theme every year, so it's things that kind of hit them as this would be a great thing to skate to. They have gone through songs the club has skated to over the past number of years and then dated back longer of course than the club has been in existence. They're picking songs from the 1930s to 1990s," she explained, adding skaters from beginners to the highest level stars will be skating to various musical selections.
Van Reeuwyk said the figure skating season begins depending on when the ice is ready at the arena. "Some years it's ready at the beginning of September. We're usually pushing it if we want to be in for September. We're usually in the first week in October," she said, but club affiliation only goes until the carnival date.
She did say the club's more advanced skaters participate in the Chinook Open, the third week in April. "We will be keeping the ice in for an extra week for them to practice," she noted.
As far as club activities, club skaters are done as soon as carnival is done, she said.
This year, the carnival will also feature a super-advanced skater as a guest, who has skated internationally. A raffle table and 50/50 draw will also be a part of the festivities on Mar. 18. Tickets for the event are $5 per person or $20 for a family. Children five and under are free.