Copperheads announce new coaching change for 2017-2018 season
Posted on June 8, 2017 by Sunny South News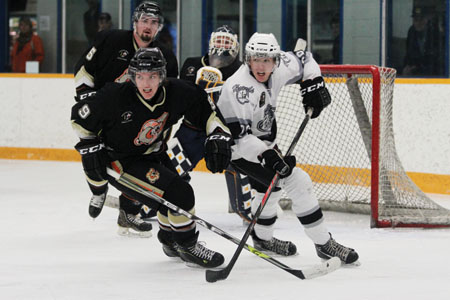 Coaldale Copperheads
According to a recent media release from the Coaldale Copperheads, the Coaldale Copperheads organization is proud to announce they have officially named Scott Trotter as the new head coach for the upcoming season.
Trotter will be taking over the role from the past three years co-coaches Jeremey Kenyon and Derek Wiest — who have stepped aside.
Wiest and Kenyon reached one major milestone by winning the HJHL south and league titles in 2015 under their wing. The Copperheads are extremely excited to have the two continue to be involved with the organization in the future, it was stated in the media release.
It was noted in the media release, the organization is delighted to have Trotter take over the role as head coach from his assistant coaching position with the team last year.
Trotter, according to the media release, is a true professional and after watching him grow throughout last season the organization knew he would be the right candidate for the job.
"It is clear how well Scott fits into the culture of the Copperheads," it was stated in the media release.
Trotter, the media release noted, is a native of Fort Macleod and has had a lot of coaching experience within Lethbridge minor hockey and southern Alberta teams.
"He is a very dedicated individual who puts in a lot of time and effort to whatever hockey job he takes on. He has mentored many hockey players along the way and has had success of getting players to the next level. Scott also dedicates much of his time in the summer by running skills camps," it was also stated in the media release.
Fall 2017 camp tryouts are officially listed on the teamwebsite coaldalecopperheads.com.
Players are asked to pre-register for camp prior to Sept. 5.
"Feel free to e-mail the executive or coaching staff with any questions in advance."
Copperheads are now accepting applications for assistant coaches and trainer for the coming season.