Coaldale triple-jumper wins silver at Canada Summer Games
Posted on August 15, 2017 by Sunny South News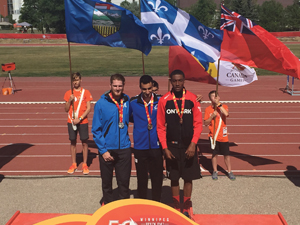 By Nikki Jamieson
Sunny South News
A Coaldale athlete made Alberta proud during the Canada Summer Games this month.
Aaron Hernandez, who currently attends the University of Lethbridge, brought home silver in the male triple jump competition.
Hernandez's journey as a serious triple jump athlete began five years, when his coach Jamie Thomas asked him to go and train with him.
That same year, Lethbridge had held the Alberta summer games, with Hernandez winning the triple jump competition there.
Once he graduated from high school, he signed with the University of Lethbridge, and things have been "progressing quite nicely" ever since.
In 2015, he was on Team Canada during the Pan American Games in Toronto. He has also been awarded three USport national titles with the University of Lethbridge and won two Senior Canadian National Outdoor Championship gold medals.
"Kind of just taking each event one at a time, and seeing the results coming in. I've always loved winning, so the more I won, the more I kept getting hungry for bigger competitions and winning more meets."
In January this year, Hernandez faced the challenge of having to switch take-off legs, due to having patella tendinitis, or jumper's knee, in his left knee. In triple jump, the first two strides are made on one foot, with the last step on the other. With his dominant leg injured, Hernandez had to retrain on his on-dominant side.
"It's the equivalent of someone who's right-hand is dominant having to only write with their left hand," said Hernandez.
"So completely different rhythm, mentally, it was kind of tough having to figure it out."
But figure it out he did, just in time to win his third USport championship in March 2017, well ahead of the Canada Summer Games.
To get on Team Alberta for the Canada Games, athletes had to attend a trial meet, where the best athletes would get chosen for the provincial team. Hernandez had attended and won a trials meet in Edmonton, securing his sport on Team Alberta.
Hernandez was also given the "once in a lifetime experience" of being the flag bearer for Team Alberta during the Canada Summer Games' opening ceremonies at the end of July. He was named captain of the track and field team for the province, and his teammates put his name forward to be the flag bearer.
"I was honoured and excited to be the one carrying the flag for Team Alberta into the opening ceremonies, definitely something I'll never forget."
Hernandez was also given another opportunity at the games, where he competed on the 4×100 metre relay male team, which placed fourth overall. As a triple jumper, Hernandez says he is "quite fast", and was suppose to serve as an alternate for the team. However, he was asked to race on the team during both the qualification and the final races.
"I was more then happy to step up and do my part."
Noting it was the first time he had won a relay race since high school, he said that competing on a team, rather then as an individual, was a little different, but still a lot of fun.
"It kind of got me out of my comfort zone, which is always nice, it's good to feel nervous," said Hernandez.
"I would definitely do it again."
In the triple jump competition, Hernandez going from a short approach rather then a full approach, because it was the end of the season and he wanted to "have fun".
However, he still scored a season-best score of 15.25 metres, which was enough to nab the silver medal.
"From short-approach and season-best, I really can't complain. And then a silver medal to top it off was just a really nice ending to the games."
Hernandez is done competing for the summer, and his next meet is currently scheduled for January 2018.
He will have a couple of weeks off until September, where he will begin base-training with the UofL Pronghorns.
He hopes to have another opportunity to compete for Team Alberta, but is currently eyeing a position on Team Canada.