Coaldale Dance Images studio looking forward to new digs
Posted on February 27, 2018 by Sunny South News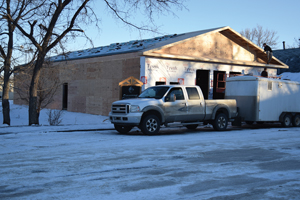 By Nikki Jamieson
Sunny South News
A year after they lost their studio space, dancers in Coaldale will be able to twirl in a space of their own.
Dance Images has operated as a dance studio out of Coaldale for the past 25 years. Originally offering lessons in ballet, jazz, tap and lyrical, they quickly expanded into other styles, such as hi-hop and muscial theatre.
Although they originally made their home in town-owned spaces, the studio grew too big and other homes were sought after. The longest they had been in a space was for 20 years, where they rented out space in a building on 20th Avenue in Coaldale, across from the local locksmith. Unfortunately, in 2017, they had to begin a search for a new home.
The building they were in had suffered from water issues for a few years, and a part of the floor sunk. But when the building's owner went to replace the floor, they discovered more water underneath the building. The fire chief looked the building over, expressing concern over it, and Dance Images packed up and left later that night in February. Their old building would eventually get torn down in May 2017.
"We took what we could out of the building, because we weren't sure what was going to happen and I didn't want to be stuck without stuff," said Gerry Unger, owner/artistic director of Dance Images. "We were kind of all over the place at the end of the season last year.
"We had classes running out of the high school (Kate Andrews), one of the studios in Lethbridge was kind enough to let us use their studio on one whole night, the Ammena Dance Company, and then we also taught classes out of the HUB and out of the community centre and, part of the time, even out of the curling rink, so we were kind of wherever we could get."
Those places, in addition to the Dance Images studio in Taber, allowed the dance school to keep running until the end of their season in June.
But, Unger still had to find a new space for the dance studio.
"Since then, we've been trying to figure out space. We've looked at a number of different spaces. My biggest issue was finding a space large enough in the downtown core, because I feel that's kind of where we need to be, because I think if we get too far off the beaten track, people forget where we are."
Another factor was that a number of her students walk to the dance studio after school, so Unger wanted to keep the studio on the south side of the highway. Cost was also an issue.
Although the HUB was secured to act as studio space until a permanent location could be found, Unger had looked at all the available options and hadn't found a suitable spot. Luckily, some friends of Unger's offered to build a studio for her, with her renting the space off of them.
The new studio will be located on 18th Street, across from the Coaldale Library.
"This fall, we have all been out of one space, which is just out of the HUB, and we've divided the room into two, which is, you know difficult. You have music running on both sides of the half of the room," said Unger. "It's been quite a difficult fall that way. But I've been very grateful, cause lots of our students and parents have been rallying around and trying to stick with us, and trying to get through this little rough patch until we get to a new space.
"We're super excited about having somewhere to be, and for it to be someplace that will be safe and feel comfortable."
The building will have three studio spaces, a lobby small office, restrooms and two changing rooms.
Unger acknowledged the building will have less storage than the old place, but she was fine with that.
"The biggest thing for a dance studio though too is to have the proper flooring. With the kindness of our parent group and myself, we've put enough money into to put the proper dance floors in. That will be one of our bigger costs, but once we get that squared away, we will be good to go."
Ceiling height was another issue, as nobody want to accidently hit the ceiling in the middle of a lift. Unger also would like viewing windows for each of the studios to be installed for each studio space.
At the time of the interview, the roof was being put onto the building, with the inside expected to be started on shortly. Unger hopes to be in there by the beginning of March.
"Waiting for it all to come together, but it was really nice to see it was dug, and the cement was put down and the walls started to come up," said Unger. "All the kids have been (excited), every day they give me an update, 'We drove past the studio, we took a picture!', cause they're excited too.
"We're really, really fortunate to get to use this space and have this opportunity, so I'm excited, because I'm hoping that once it gets built and we're stable and we're somewhere, then our numbers will grow again this year, and on we go."