Copperheads in a predicament
Posted on February 27, 2018 by Sunny South News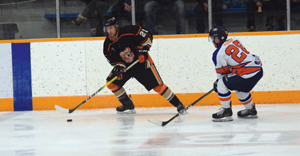 Sunny South Photo by Nikki Jamieson
Coaldale Copperheads
The second round of playoffs turned out to be a much tougher predicament than the Copperheads anticipated.
After the weekend play the Snakes are down two games to one against the High River Flyers. Copperheads won the first match up at home.
A Flyers hot goalie the next two games plus a hungry bunch on the ice created a slight change of plans for the best of five series. It was not from a lack of trying, the Copperheads just found back luck not finding the goals they needed. Copperheads out shot the Flyers 46-32 for game 3.
Last year playoffs, if you recall, the Copperheads were down 3-0 against the Okotoks Bisons and came back with four straights wins in the semi finals.
The Copperheads have their hopes high to win Friday night the 2nd to even the series up. the plan is to bring the Flyers back home Saturday night for home advantage for a 8:30 puck drop for game five.
Fans are encouraged to follow the Copperheads Twitter feeds or the league website for updates from Friday.