Humboldt tragedy hits close to home for Taber councillor
Posted on April 10, 2018 by Sunny South News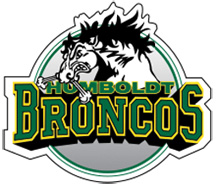 Southern Alberta Newspapers graphic submitted
By Greg Price
Southern Alberta Newspapers
Through tragedy has come hope in the selfless actions by a young man who lost his life in the tragic vehicle accident on Friday night, involving the Humboldt Broncos team bus, that saw 15 people lose their lives.
Logan Boulet, a 21-year-old defenceman from Lethbridge who played with the Broncos who compete in the Saskatchewan Junior Hockey League, had just signed his organ donor card mere weeks before Friday's accident. Boulet was taken off life support over the weekend and his gift has helped save six lives with transplants.
Boulet, was on his way to a semi-final game against the Nipawin Hawks when a tractor trailer and the bus collided, killing 15 people and injuring over a dozen more.
The captain, Logan Schatz, nine other players, two coaches, a radio play-by-play announcer and a statistician from the Saskatchewan Junior Hockey team were also confirmed killed.
Jack Brewin, a two-term town councillor for Taber, knows of importance of organ donation himself, having received a live liver transplant back in 2016, due to suffering from an autoimmune disease.
"In all the terrible things that have come out of this, that was something beautiful in all the lives he helped save. I am so thankful to this young man, having been an organ recipient myself," said Brewin, who along with Canadians across Canada, were in utter shock upon hearing of the story breaking on social media.
"And his parents stuck with it too, his parents could have said no. That's why it's stressed that you always make sure your family knows of your wishes."
Of all the gifts that can be given in life, none is greater than the gift of life which Brewin noted Boulet has given to numerous families in the need of his organs.
"This young man gave life. Imagine the people in need of his organs, be it liver, heart or lungs. They were dying before this young man's life left…now they have a second chance to live on through him," said Brewin.
Tragedies like those witnessed with the Humboldt Broncos have seen spikes in those signing their organ donor cards across Canada.
That awareness also spiked around southern Alberta when Brewin's story broke of needing a donor, which has made the town councillor an advocate.
Within the European Union, organ donation is regulated by member states. As of 2010, 24 European countries have some form of presumed consent (opt-out) system, with the most prominent and limited opt-out systems in Spain, France, Austria, and Belgium yielding high donor rates.
Canada lags behind many nations in terms of organ donation, 18 donors per million people according to September 2017 statistics (CBC), and is in the lower third of developed countries.
"I am really pushing towards mandatory organ donation. You are automatically on the list unless you decide to opt out," said Brewin. "If you want to opt out, then it's up to you to do it. If you need an organ, then there will be people trying to find you an organ. It's pretty hard to say no, it's a lot harder to say no than wanting to save someone's life. The point I try and get across is if you need an organ, but you won't donate your organs, do you deserve an organ?"
The Town of Taber has lowered its flags in front of the administration building to half-mast in recognition of the tragedy and mourn those who have lost their lives, while recognizing first responders and medical professionals.
"You just think of how many young people ride buses all the time. When we heard of the tragedy, we thought of lowering our flags right away. I think we were one of the first communities that did it besides Saskatchewan," said Brewin. "This is a hockey town. I'm sure there are people in this town who knew of people who were on that bus. It's very fitting I think of what we did. This was a momentous tragic event that has been on the minds and hearts of all Canadians. Five of those boys were from Alberta."
There have been reported events on social media of Taberites following a Canada-wide trend of leaving a hockey stick on their front porch, with the lights on in support of the Humboldt Broncos. In less than a week, over $5 million has been raised in GoFundMe donations to help players/families affected by the tragedy. Hockey rinks all across Canada have given tributes to the Broncos in pre-game ceremonies in their playoffs.