Copperheads slither to victory in first home game of the season
Posted on September 18, 2018 by Sunny South News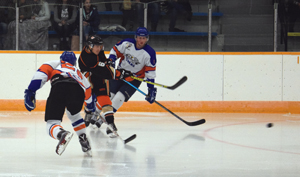 Sunny South photo by Nikki Jamieson
Coaldale Copperheads
It was the first game of regular season for the Copperheads this past Sunday.
The team opened their main camp the week prior narrowing their roster down.  With a few practices in the middle of the week, it left no time for exhibition play for the new squad.
The Snakes first opponent scheduled was the High River Flyers to the Snake Pit. It was a incredibly energized game as the Copperheads won with a final score of 8-2.
Returning player Brandy Howg from Enchant has a impressive performance game with two goals and a assist. Overage player Jayden Smith secured double goals. Captain Levi Anderson scored a one timer from the point on a power play. Veteran Ty Abbott scored a hard working shorthand goal. Plus important singles came from Jayden Bexte and Riese Nevil. Solid netminder Nolan Berner has returned to the Snakes which is an added addition to the team.
Next home game for the Copperheads will be Sat. Sept 22 at 8:30 pm. Northern Division Airdrie Thunder will be making their sole trip of regular season to the Snake Pit. Copperheads former deceased teammate Morgan Simpson's brother is one of the Thunders  goaltender.
A special event will be held with the Simpson family present on the 22nd. Prior to puck drop the organization will unveil the South Division banner from that season that will be hang in the Snake Pit.